For families in CT, NY, and NJ
Class schedules
To view or print our weekly schedule for the 2018-19 calendar, click on the schedule below: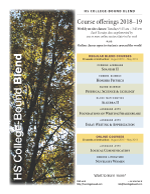 To download a brochure with complete course descriptions for 2018-19, click on the image at right:
About our program
The Blend is our lineup of weekly high-school-level courses. — We call our program "The Blend" because most of our courses integrate two forms of instruction:
an

on-site

class one day each week;
a second class

online

later that same week.
What The Blend offers
Here at The Blend we provide:
structured high- to honors-level high school content — math, science, history & literature, and more;
study skills, organization skills, collaboration and communication skills, & technology skills;
a supportive, inclusive atmosphere;
a disciplined approach to learning in a group.
What's more, we extend a warm welcome to all homeschool philosophies.
OUR PROGRAM FOR 2018–19
Now open for enrollment
Online courses
---