ONLINE SCIENCE
Human Anatomy & Physiology I & II
Online, two parts of 12 weeks each, with twice-weekly sessions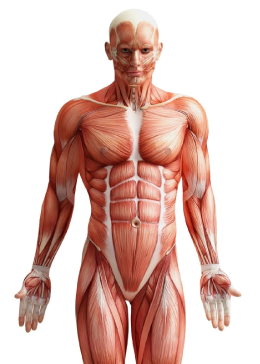 Most anatomy courses emphasize terminology: they ask students to ingest and retain the nomenclature of human physiology, but with little or no practical use for all those terms. — Our Human Anatomy & Physiology is different:
This online course is taught by an M.D. with years of practice in a variety of clinical settings.
She uses a problem-based approach to reveal how the human body works — that is, once students understand how an organ system functions when everything is working as it should, they explore what happens when things go wrong.
So in this course, common illnesses and injuries — both their causes and effective treatments — provide a canvas for compelling, in-depth analysis of each organ system. To illustrate:
When exploring the cardiovascular and respiratory systems, students explore such common afflictions as asthma and heart attacks (cardiac arrest).
When considering common injuries and emergencies — like lacerations, wounds, and hemorrhages — students examine both the affected systems and the ways the immune system recognizes and fights infections.
When studying the brain and the senses, students learn about vision; then they consider adverse reactions to light and what such reactions might mean.
When exploring the gastrointestinal system, students learn the common symptoms of appendicitis.
Students in this course, accordingly, learn to think like physicians: with each affliction, students must figure out what went wrong and, in order to succeed, apply their acquired knowledge of what is normal and healthy.
How the course works
On-line lectures are delivered live, and all classes are recorded, in case students need to view them at a later time. Students are expected to be active listeners, both taking notes and keeping their notes organized, and active contributors in class. — Homework usually requires 2 – 2.5 hours per week. It includes reading, videos, and close study, including coloring of black-line drawings of organs and systems. Also, the instructor provides regular examinations.
Prerequisite
None, but the course is appropriate only for mature students of high school age who can —
think critically;
engage in analytical problem-solving;
reason deductively.
Students who have not yet studied high school biology are welcome.
Among the topics covered
Texts to purchase
Here are the items needed for Human Anatomy & Physiology — all links below are to the correct editions on Amazon:
This two-part course covers the mechanics of the human body and explores in detail the myriad of illnesses it's subject to. Part 1 begins with an overview of anatomy, cell structure, physiology, and metabolism, and then moves into the systems.
Topics in Part 1 include:
Introduction to Anatomy & Physiology
Cardiovascular and Respiratory systems
Muscular-skeletal system
Endocrine system (time permitting)
Part 2 includes:
Gastrointestinal system
Integumentary system
Hematologic and Immune systems
Neurosensory system
About the instructor
Nilay Aykent, M.D., has been teaching and tutoring for 17 years. She brings to her teaching both:
unusual academic depth — she did her B.A. in Philosophy at NYU and her M.D. at Sydney University in Australia;
practical experience — she has worked as a practicing MD in a variety of clinical settings.
Note: The instructor is available as a private tutor when needed.
Now open for registration
---
Part I: FALL 2017
September 11 – December 6, 2017
Mondays, 11:30 a.m. – 12:30 p.m. EST
Wednesdays, 1:30 – 2:30 p.m. EST
24 sessions of 1 hour each.
Course fee: $398.00 USD
To register a student, click here:

Part II: WINTER-SPRING 2018
January 15 – April 11, 2018
Mondays, 11:30 a.m. – 12:30 p.m. EST
Wednesdays, 1:30 – 2:30 p.m. EST\
24 sessions of 1 hour each.
Course fee: $398.00 USD
To register a student, click here:

---
Also open for registration:
This series solves a mystery at the heart of Hamlet, unveiling historical information that unlocks the play's secrets — the story, the characters, Hamlet's actions all suddenly make perfect sense. Parents, please note: Students in this course should already have considerable familiarity with Shakespeare. Our series on Romeo & Juliet is ideal preparation.
View details > >
This new series comprises seven sessions on Shakespeare's shortest tragedy. Macbeth shows what happens when a man with a conscience commits murder. It is an astute portrait of psychological unraveling, and students in this course will study in great detail not
just the characters' psychology, but the play's remarkable imagery and verse.
View details > >