Resources
---
Coursework
Looking for our own course offerings? — See here.
High school credits & requirements
---
Building your high school curriculum
The link below is a useful resource for building your college-prep high school curriculum. It leads to a page from the workbook for Homeschooling the College-Bound Student, our workshop for parents homeschooling through the high school years.
This page gives an overview of courses needed for 1) completing high school, and 2) gaining college admission:
High school requirements by state (not homeschooling requirements)
For schools, the requirements for high school graduation vary from state to state. In case you're interested in seeing the requirements for schools in your state, you may find these pages interesting—you can navigate to requirements for most states:
* * *
The remaining resources on this page are grouped under these headings (scroll down or click to jump to that section):
Please note: Inclusion of a resource in the lists below does not constitute our endorsement of that resource. These resources are provided here for informational purposes; you must assess each resource's fit with your own educational values and your student's goals.
Colleges look for applicants who have taken challenging courses in a wide variety of areas. The most selective schools are more inclined to consider students who have taken AP, college-level, and honors courses during high school.
To determine whether AP credits will be accepted at colleges your student is applying to, use the College Board's search engine here: AP Credit Policy.
ONLINE SCIENCE

Science Intensives

— 8-week courses on:


— Ecology
— Genetics
— Botany
— Anatomical Systems

ONLINE MATH

ONLINE WRITING

ONLINE LITERATURE
Many of the best universities in the world are now offering access to courses for free. Your student can learn from the best professors by being a non-matriculating student. Credit is not given, but your student can still learn a tremendous amount while taking part in college classes. Each site breaks down offerings by subject and/or category.
The resources below may prove useful for building a college-prep high school curriculum. Many vendors offer entire high school curricula. Again, please note that inclusion here does not constitute our endorsement of the resource.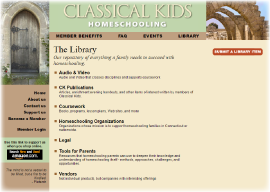 Classical Kids on-line library
In addition to the resources above, the members of the Classical Kids homeschool group in Connecticut have opened the group's library of resources to the public.
This library catalogs resources Classical Kids members have used and found valuable —
including:
This section catalogs resources focusing not on core topics like English or math but on skills essential to effective studies — like time management, taking good notes, preparing for a test, mind mapping, and so on.
The Scheduling Challenge. Many students have a rough time with the task of scheduling their classes, assignments, due dates, etc., and especially their study time. — What it all adds up to is a planning and organizational challenge they have no experience with. And then, once they've created a schedule, actually using it is yet another challenge: sticking to a schedule often requires entirely new habits and much greater discipline than our teens are accustomed to.
Below are a few resources from our workshop Homeschooling the College-Bound Student — resources we use to help parents and students understand this challenge:
Study Strategies, UT Austin. A free site with information on time management, critical reading skills, writing tips, test taking skills.
Effective Study. This site offers guidance on a number of study & organization skills, including sustained concentration, memorization, productivity & time management, reading, test taking, and writing.
How to Become a Superstar Student, from The Teaching Company. Cost: $200–220. Topics include understanding and maximizing your learning style, note-taking, organizing, time management, testing, and more.
HS College-Bound series on study skills: "Digging in." We've published a series of newsletter articles on important study skills:
What Close Reading Actually Means. A great source with several links on the topic of close reading.
Close Reading: How to Mark a Book. Essay by Mortimer Adler, edited by Roy Speed.
---
Just add yourself to our contact list here.
Online Writing
---
Two semesters of online classes
Two classes per week
Traditional approaches to writing are often wrongheaded — students, for instance, are routinely asked to write essays before they've actually read any. Students in this course, by contrast, read closely and analyze dozens of essays by outstanding writers — and then begin to write their own. In addition to enhancing students' appreciation of the essay form, the aim here is twofold: 1) Students learn to write clear, correct English prose. 2) They learn to control in their writing the logical flow of their ideas.
Note: This course serves as a precursor to our course Essay Writing & Appreciation.
Prerequisites: Students in this course should have a strong command of English fundamentals — i.e., grammar, usage, and punctuation.
Shakespeare Intensives
---
Ten online classes
These online sessions provide an in-depth study of this play as well as the historical, cultural, and literary background needed to bring the play to life. As one of our College-Bound Intensives, this course is designed to take students to an advanced level of reading comprehension and analysis, enabling them to:
tackle sophisticated material across the spectrum of the college curriculum;
dissect difficult passages included in standardized tests.
For my daughter, the most helpful part of taking this class was reading through parts of the play, line by line, with Roy's guidance every step of the way. Through this experience, she has begun to understand how to read Shakespeare and has been inspired by him to read many of Shakespeare's plays on her own.
Vicki B.
Ten online classes
For students, Hamlet can seem daunting — it's Shakespeare's longest play, with dark themes, complex ideas, and difficult verse. This course reveals the play's deepest secrets in a series of online sessions. It's an in-depth study of the play some consider Shakespeare's greatest.
Prerequisites: Students should already have considerable familiarity with Shakespeare. Our own College-Bound Intensive on Romeo & Juliet is ideal preparation for this course.
Training for parents
---
Online series
This program addresses the principal concerns parents have about homeschooling through high school — everything you need to know about the high school curriculum and credits, standardized tests, transcripts and record-keeping, applying to college, pursuing scholarships, and more.
I feel so much better prepared and excited in this journey of college preparation for my twin daughters.
Jenny C.
Terrific. Full of information. The materials were so thorough. I now have a plan of action. Also, this workshop is inclusive: No matter what type of homeschooler you are, you will understand better how to prepare your student for college and present him or her in the best light.
Homeschooling mom
To ask a question about the program
or to register, contact Diane Speed:
Tel. 203.942.6155
Email: dspeed@salientcomm.com