Movie Nights Online
---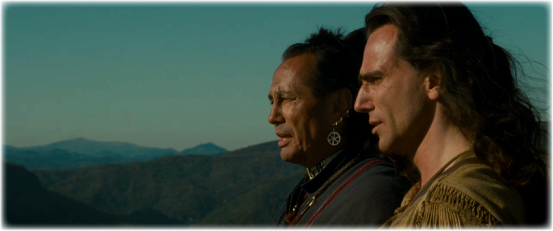 Russell Means and Daniel Day-Lewis in Michael Mann's Last of the Mohicans (1993).
Late Fall 2021:
Great movies, great discussions
Our final series for 2021 combines classics & hidden gems.
In November & December we're getting together online to view and discuss movies of unusual quality: films that most of our students have never seen — and, left to their own devices, might never see.
All our films are currently available on Netflix and Amazon Prime, so having subscriptions to both services is a prerequisite for joining us for this series.
The good news about these services: Right now, we can view many extraordinary films. — The bad news: On both services the comings & goings of individual movies can be arbitrary and difficult to predict. Our lineup of films, accordingly, is subject to change, even in the middle of a series.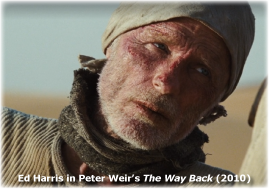 The host for this series is Roy Speed; you can learn about him here.
How movie nights work
This online series comprises five Saturday evenings — see our schedule above right — and the series is designed to bring together teens and movies they might otherwise never see. — Each evening includes:
Background on the movie.

Each evening begins with an introduction to the night's film. Depending on the film, that introduction may emphasize historical or geographical background on the period & place depicted; information on the filmmakers—including writers, directors, cinematographers, composers, etc.; plus any other information the host feels will deepen students' understanding of what they're about to see.

Lively discussion.

The two principal discussions of the evening take place at the mid-point and conclusion of each film. All discussion is conducted in a relaxed yet civilized atmosphere.
The films
Among the films we're currently considering for this series—and which are (at this writing) available on either Netflix or Amazon Prime: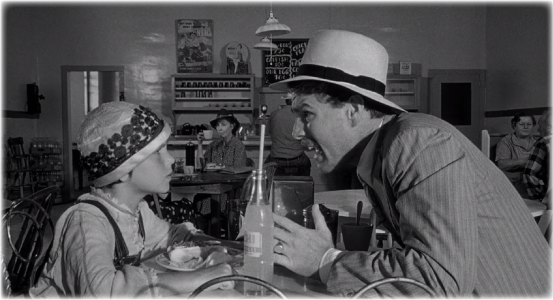 Tatum O'Neill & Ryan O'Neill in Peter Bogdanovich's Paper Moon (1973).
Paper Moon (1973)


This film takes place around 1936 — the middle of the Great Depression — and it tells the story of a con man and a little girl who are making their way around Kansas and Missouri selling Bibles. The stars are actor Ryan O'Neill and his daughter, Tatum, who steals the show. She was just 8 years old when she auditioned for this part and still only 10 years old when she was awarded the Oscar for Best Actress in a Supporting Role — the youngest person ever to be so honored. Many people, including director Peter Bogdanovich still say she won in the wrong category, that she should have been awarded Best Actress in a Leading Role, for the film's success is largely due to her performance. The gorgeous black-&-white cinematography is by the great László Kovács, and the resulting film is both a powerful portrait of the Depression and a moving story.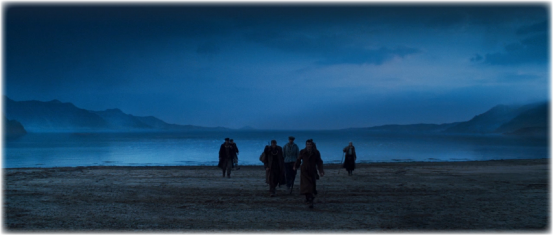 In Peter Weir's The Way Back (2010), escapees from a Siberian labor camp attempt to
walk to freedom on a four-thousand-mile trek through China & across the Himalayas into India.
The Way Back (2010)


This film was directed by Australian director Peter Weir, whose films we have enjoyed in previous Movie Nights — including films like Dead Poets' Society, The Truman Show, and Master and Commander. This unusual film tells the story of a handful of prisoners in a Soviet gulag who in 1941 decide to escape. The problem: Their prison "walls" consist of hundreds of miles of Siberian forest in every direction. They resolve to walk due south to freedom: out of Siberia, into China and across the Gobi Desert, then across the Himalayas, and into India — a trek of more than four thousand miles. The script draws on the real experiences of real gulag survivors (including Varlam Shalamov). The remarkable cinematography is by Russell Boyd (Master and Commander), and the wonderful cast includes Ed Harris, Jim Sturgess, Saoirse Ronan, and Colin Farrell.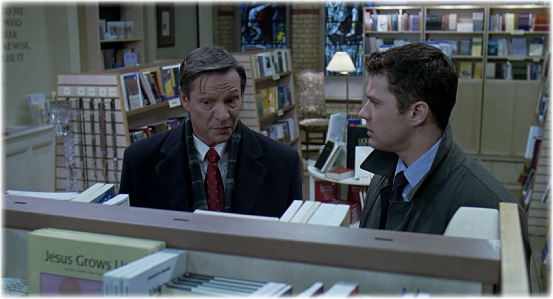 Billy Ray's Breach (2007) tells the true story of the investigation & arrest of Robert Hanssen
(Chris Cooper, left), a senior agent in FBI counterintelligence who sold U.S. secrets to Soviet spies.
Breach (2007)


It's February 2001, and real-life FBI agent-in-training Eric O'Neill (played by Ryan Philippe) receives a new assignment: he's been posted to the office of a 25-year veteran of the FBI named Robert Hanssen (Chris Cooper). Initially, O'Neill is told that his boss is under investigation; O'Neill is supposed to monitor Hanssen's sexual proclivities. But then O'Neill's handler (Laura Linney) reveals the truth: Hanssen has been selling secrets to the Soviets, and young O'Neill is about to play a key role in a key arrest. Hanssen's betrayals would soon be described by the Department of Justice as "possibly the worst intelligence disaster in U.S. history." — The stunning script is by Billy Ray (Shattered Glass, Richard Jewell, Secret in Their Eyes, The Hunger Games), who also directs. The cinematography is by Tak Fujimoto (Silence of the Lambs, Philadelphia, The Sixth Sense, Signs).
We're also considering the following films:
The challenge of selecting films for Movie Nights
To select just six films for a movie nights series, we view many times that number of films. Among our criteria:
Our research on the movies is painstaking, and in some cases, we must look beyond our own elimination criteria.
One of the films we considered for an earlier series, for example, was the Spanish movie Lighthouse of the Orcas (2016): it bears an "MA" rating — mature audiences only, a rating usually reserved for only the most extreme content. On a hunch we watched the entire film and concluded that someone, somewhere, had simply goofed: the film contains no sex, no nudity; the only violence occurs when orcas attack a group of seals on a beach — the kind of scene you might find in a nature documentary on PBS. Even that violence is viewed from a great distance (no visible blood or gore) and is shown to underscore one of the movie's themes: that Nature's gonna be nature, whether we like it or not, and while our hearts may go out to animal "victims," our sympathy alters nothing in the natural world. So the film warrants at worst a PG-13 rating; there's no telling how many concerned families are frightened away by the MA rating.
How to sign up for Movie Nights
See above right: "How to enroll a student."
Film series: Late Fall 2021
---
Five Saturday evenings online
6:30 – 10

pm

EST
(ending time is approximate)
November 6, 13, 20
December 4, 11
FEE:


One student: $ 54.
Two siblings: $ 68.
---
Signing up a student for this series is easy — just two steps:
1) Pay for 1 student here:
— OR for 2 siblings here:
2) Email the host, Roy Speed,
by clicking here, and send him
the name and email address
of each student you paid for.
Please note: Space is limited.
---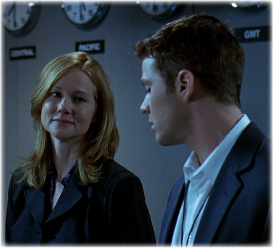 Laura Linney & Ryan Philippe in a true story of treason, Billy Ray's Breach (2011).
Want to learn more
about our movie nights?
— Contact the host
by clicking here.
Shakespeare Intensives
---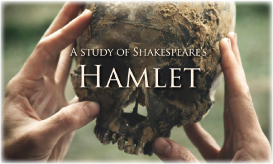 Ten online classes
For students, Hamlet can seem daunting — it's Shakespeare's longest play, with dark themes, complex ideas, and difficult verse. This course makes the play accessible and, in ten online sessions, reveals the play's deepest secrets. This course in close reading provides an in-depth study of the play some consider Shakespeare's greatest.
Prerequisites: Students should already have some familiarity with Shakespeare. Our own College-Bound Intensive on Romeo & Juliet is ideal preparation for this course.