Movie Nights Online
---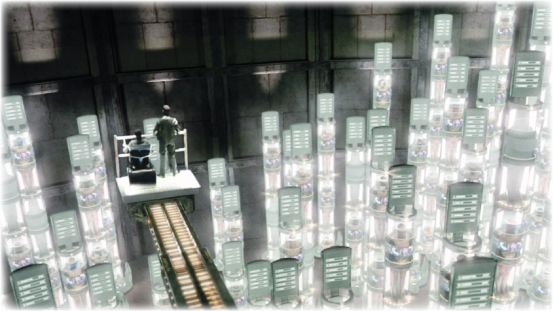 Steven Spielberg's Minority Report (2002): John Anderton (Tom Cruise) visits a prison
where all the inmates have been convicted of "pre-crimes."
Great discussion of great movies
A sci-fi classic & a sci-fi farce; PLUS fantasy "found footage" from Norway
This summer we're getting together online to view and discuss movies of unusual quality: films that most of our students have never seen — and, left to their own devices, might never see.
All our films are currently available on Netflix and Amazon Prime, so having subscriptions to both services is a prerequisite for joining us for this series. The good news: On these services, right now, we can view many extraordinary films. The bad news: The comings and goings of individual movies from these services can be arbitrary and difficult to predict; our lineup of films, accordingly, is subject to change, even in the middle of a series.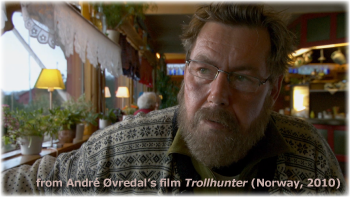 The host for this series is Roy Speed; you can learn about him here.
How movie nights work
This online series comprises six Saturday evenings — see our schedule above right — and the series is designed to bring together teens and movies of unusual quality. We try to choose films that most teens, on their own, might never encounter. — Each evening includes:
Background on the movie.

Each evening begins with an introduction to the night's film, with historical & geographical information on the period and place depicted; information on the filmmakers—writers, directors, cinematographers, etc.; plus any other information the host feels will deepen students' understanding of what they're seeing.

Lively discussion.

The two principal discussions of the evening take place at each film's mid-point and at its end. All discussion is conducted in a relaxed yet civilized atmosphere.
The films
Among the films we're considering for this series: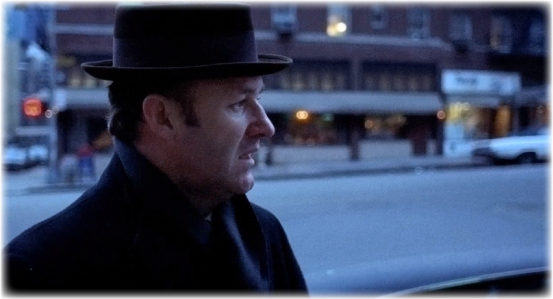 Gene Hackman as Detective Popeye Doyle in William Friedkin's The French Connection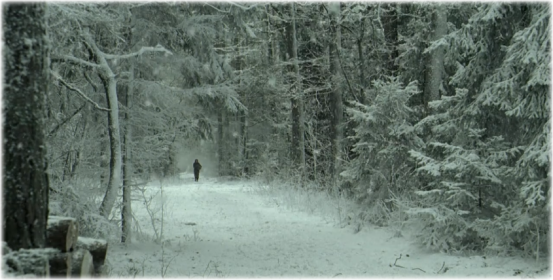 Literature professor Evgenia Ginzburg escapes from a Siberian labor camp in Within the Whirlwind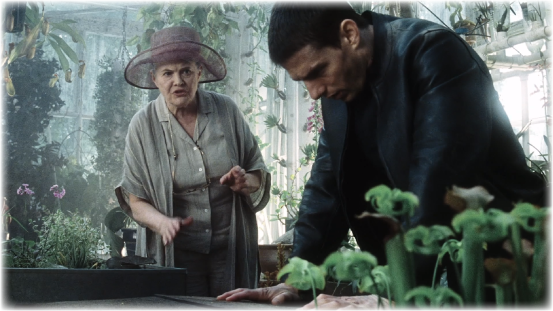 Fleeing the police unit he used to head, John Anderton (Tom Cruise) seeks the help of
Dr. Iris Hineman (Lois Smith) in Steven Spielberg's Minority Report.
Minority Report (2002)


This film by Steven Spielberg is a sort of futuristic film noir. It's based on a short story by the famous science fiction writer Philip K. Dick, whose stories lie behind countless sci-fi movies and TV shows — Blade Runner, Total Recall, The Man in the High Castle, and more. In Minority Report, the year is 2054 A.D., and crime has been virtually eliminated due to the special abilities of an elite "pre-crime" unit: they rely on gifted individuals who can predict future crimes (pre-crimes). Tom Cruise plays the head of the unit who finds himself accused of a pre-crime. Across a futuristic cityscape the hunter becomes the hunted: Cruise flees his own unit and, ironically, must somehow remain at large long enough to prove his innocence of a crime he has not yet committed. — The brilliant cinematography is by Janusz Kaminski, and despite an astonishing array of special effects, Spielberg somehow manages to keep the focus on his characters and his story.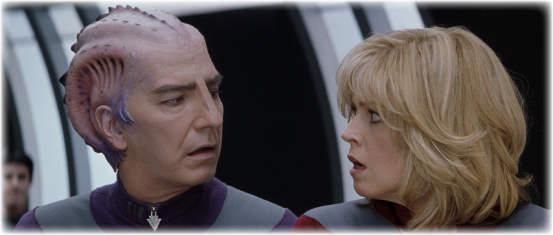 Alan Rickman and Sigourney Weaver in Dean Parisot's Galaxy Quest
Galaxy Quest (1999)


We must all be eternally grateful to Dean Parisot, who directed this pitch-perfect sci-fi farce. The brilliant cast includes Tim Allen, Alan Rickman, Sigourney Weaver, Tony Shalhoub, Sam Rockwell, and a very young-looking Justin Long, and I don't think any of them have ever been funnier. (Watch closely and you'll also spot Rainn Wilson in his very first movie role.) Galaxy Quest satirizes Star Trek, male actors with William-Shatner-size egos, and the whole world of Star Trek fandom. The most surprising thing about this nerd-rich environment: It produces a worthy tale of starships, distant planets, and alien creatures that is entertaining in its own right. One subplot might be thought of as Triumph of the Nerds.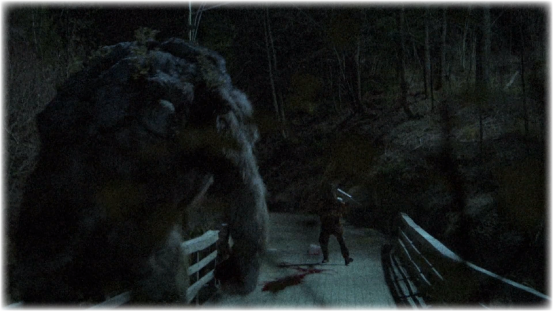 On a bridge in a remote forest, a moonlit encounter with a troll — from André Øvredal's Trollhunter
Trollhunter (2010)


This film by Norwegian director André Øvredal is of the "found footage" variety: it comprises what seems to be documentary footage by a team of young filmmakers who stumble on and then seek to interview a gruff rural employee of the Norwegian government. The job of that employee: To help manage the population of trolls that still haunt Norway's most remote regions, which he tours in his LandRover. Trollhunter is a visual treat, with the camera crew getting a field education on troll lore, troll health issues, tactics for stopping a troll that's developed a taste for local livestock, and more. The troll hunter himself turns out to be a middle-aged loner living out his days in a modest caravan. In Norwegian with English subtitles. — BTW: Thanks to this 2010 film, André Øvredal became sought-after by Hollywood producers to make mainstream American films (The Autopsy of Jane Doe (2016), Mortal (2020), and more).
We're also considering the following films:
Also still in the running are the following films, currently available on either Netflix or Amazon Prime:
Dodsworth (1936)

— a remarkable film by director William Wyler, who directed not only Roman Holiday, already on our list for this series, but also The Best Years of Our Lives, Wuthering Heights, Mrs. Miniver, and many other fine films. Dodsworth is based on the novel by Sinclair Lewis and stars Walter Huston and Mary Astor.

Stranger Than Fiction (2006)

— a terrific film by director Marc Forster (Finding Neverland) about an IRS agent who hears inside his head the voice of an author narrating his life: the voice is unfailingly accurate — and then reveals that he is soon to die. Starring Will Ferrell, Emma Thompson, Maggie Gyllenhaal, and Dustin Hoffman.

Hunt for the Wilderpeople (2016)

— a charming film by director Taika Waititi (Jojo Rabbit) about a rebellious orphan who goes missing in the New Zealand bushland.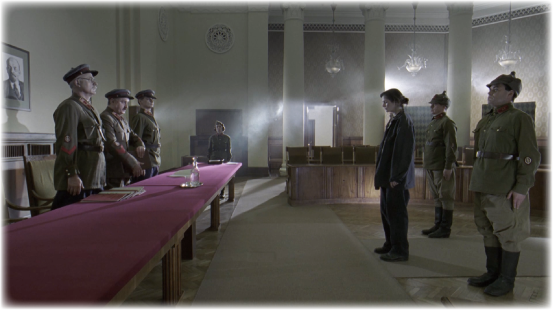 The 1937 secret trial of literature professor Evgenia Ginzburg (Emily Watson) in Within the Whirlwind
The challenge of selecting films for Movie Nights
To select just six films for a movie nights series, we view many times that number of films. Among our criteria:
Our research on the movies is painstaking, and in some cases, we must look beyond our own elimination criteria.
One of the films we considered for an earlier series, for example, was the Spanish movie Lighthouse of the Orcas (2016): it bears an "MA" rating — mature audiences only, a rating usually reserved for only the most extreme content. On a hunch we watched the entire film and concluded that someone, somewhere, had simply goofed: the film contains no sex, no nudity; the only violence occurs when orcas attack a group of seals on a beach — the kind of scene you might find in a nature documentary on PBS. Even that violence is viewed from a great distance (no visible blood or gore) and is shown to underscore one of the movie's themes: that Nature's gonna be nature, whether we like it or not, and while our hearts may go out to animal "victims," our sympathy alters nothing in the natural world. So the film warrants at worst a PG-13 rating; there's no telling how many concerned families are frightened away by the MA rating.
How to sign up for Movie Nights
See above right: "How to enroll a student."
Film series: Summer 2021
---
Six Saturday evenings online
6:30 – 10

pm

EST
(ending time is approximate)
June 19, 26
July 10, 17, 31
August 7
FEE:


One student: $ 58.
Two siblings: $ 68.
---
Signing up a student for this series is easy — just two steps:
1) Pay for your student(s)
through our online store.
2) Email the host, Roy Speed,
by clicking here, and send him
the name and email address
of each student you paid for.
Please note: Space is limited.
---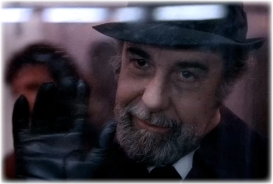 Fernando Rey as heroin kingpin
Alain Charnier in The French Connection
Want to learn more
about our movie nights?
— Contact the host
by clicking here.
Shakespeare Intensives
---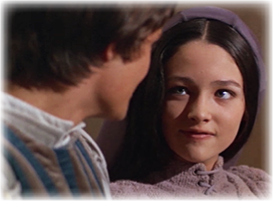 Ten online classes
These online sessions provide an in-depth study of this play as well as the historical, cultural, and literary background needed to bring the play to life. This course is designed to take students to an advanced level of reading comprehension and analysis, enabling them to tackle sophisticated material across the spectrum of the college curriculum and dissect difficult passages included in standardized tests. Space is limited.