WRITING & COMMUNICATION: Student Workbook/Teaching Guide
The Writer's Guide to Grammar
Our innovative program for learning the essentials of clear English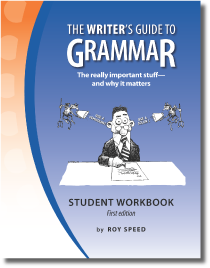 Roy Speed's Writer's Guide to Grammar provides complete training in English grammar, usage, and punctuation — but with a twist: Roy emphasizes the topics that students actually need to know.
Roy has taught writing for decades, both to business professionals and to students of all ages. He understands:
what students know and don't know;
what they think they know but actually know wrong.
Most important, Roy knows which concepts in sentence structure and punctuation prove most critical to effective writing.
He also understands the challenges with teaching this subject. So his Teaching Guide With Answer Key contains specific guidance on how best to teach this material.
First Amazon review!

Rosemary Laberee

This book has it all. Home run!
May 18, 2019
Format: Paperback
Outstanding in every realm, this book has it all — mechanics, organization, conventions, sentence fluency and all essential grammar. The Writer's Guide to Grammar offers the most succinct, easy-to-remember explanations for all the glitchy grammar issues while striking a perfect balance between definitions and practice. And there are clever illustrations!
It was written with students in mind. There is a Teacher's Guide (superb) and a Student Workbook. I've tutored writing to middle school and high school students for the past 15 years, so I was eager to find a fresh approach to showing the way through the grammar jungle. Home run — THIS book is it. I've already recommended it to several families and have adopted it as the backbone for my tutoring. Bottom line — it takes all of the mystery out of applying the rules without ever getting dull.
But it is not just for students. This book should be the go-to for writers of every kind. Students, parents, teachers, employees and employers — The Writer's Guide to Grammar will make you a better and more accurate communicator.
---
Post a book review!
Already own these books? — Post a review at Amazon:
Student Workbook
The Writer's Guide to Grammar helps with all of the following challenges:
Moving knowledge into long-term memory.

To drive home the critical concepts, the program is stealthy: it may not feel like it, but it incorporates drill, repetition, and review sufficient for students to master the critical guidelines for usage and punctuation.

Keeping students engaged.

Among the standout features of the program are its variety and humor — both of which can be critical aids to learning. Put another way, drill and repetition must never feel like drill and repetition.

Applying the knowledge to real-world situations.

The program is filled with activities that look not like grammar exercises, but real-life writing challenges — like memos, letters, articles, and essays.
This workbook serves both as a home-study course and as material for classroom coursework — e.g., for homeschooling co-ops. Using this material, your student can:
master the most important points of English grammar, punctuation, and usage;
perceive with little effort both the structure of a sentence and how proper punctuation can enhance the meaning;
employ with dictionary-precision a rich arsenal of English words.
Teaching Guide with Answer Key
The Teaching Guide for this program is remarkably easy to use. Its brilliant design makes lesson prep easy and enhances the teacher's delivery of lessons.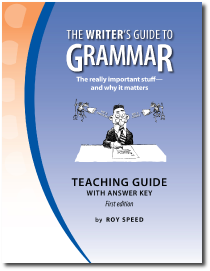 Key elements of the design:
The "Teaching Guide" precisely mirrors the "Student Workbook."

All answers to exercises are overlaid directly on the student exercises — so no more flipping to the back of the book to find answers!

Teaching instructions and exercise answers are overlaid in color.

As a result, parents and teachers can distinguish at a glance 1) material and instructions designed for the teacher, and 2) the concepts, examples, and exercises visible to the student(s).

The "Introduction for Teachers" offers guidance for running classes.

The author relates lessons from his own experience with teaching this material in the classroom and, in the process, shows how teachers can maximize the value of the classroom experience.

For each topic, the Teaching Guide includes tips for enhancing students' understanding of the concept.

These tips are always featured with bold headlines like

why it matters

and

what to emphasize

.
At a Glance
Comparing the Student Workbook and the Teaching Guide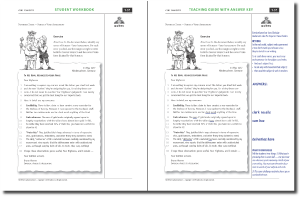 In case you'd like to view sample pages from The Writer's Guide to Grammar, one option is to go the Amazon page for each version and use the "Look inside" feature. — You can view the Student Workbook here and the Teaching Guide here.
In case you're wondering how the Student Workbook and the Teaching Guide differ, just click on the graphic at right to view a series of side-by-side comparisons.