THE GOLD BLEND: WRITING & COMMUNICATION
Essay Writing & Appreciation
Reading great essays & finding your own voice in writing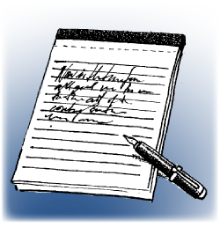 The emphasis of this course is insight — those fleeting, intuitive leaps we all make at some point, magic glimpses of understanding and even wisdom. In our daily lives, we seldom capture them, record them, or explore them, but they make for splendid essays. Our students, accordingly, are encouraged to notice and record their own insights and explore them in the form of essays.
The problem with the academic approach
In schools, the essay is usually taught to students as a peculiar artifact of the classroom — a necessary academic chore, and one that's properly conducted in a rigid, artificial form (e.g., the five-paragraph essay). Even more alarming, students are usually asked to write essays before they've actually read any.
This approach does students a real disservice. In the real world, essays provide a forum for sharing insights or discoveries or for discussing controversies. In virtually every field of human endeavor — science, economics, history, law, foreign policy, you name it — the leaders or pioneers in the field invariably turn to the essay as the medium of choice for discussing new developments out on the frontiers of discovery. So in every field, the most important discussions and debates take place in the form of essays.
Understanding the form
It's no accident that this course is called Essay Writing & Appreciation: our students read some of the finest essays ever written; they come to a profound appreciation of what can be accomplished in this versatile form.
An understanding of the form and what it can achieve is essential to the purpose of the course, which is to equip students to write essays themselves — to express their thoughts and insights in writing. In so doing, the course prepares our students to participate in discussions conducted by leaders in whatever fields they may choose to pursue.
We felt relief at having found you and had high hopes from the beginning. Everything we wished for our daughter has come true. Your insight is amazing. The respect with which you treat the students is admirable, as is your ability to challenge them and interest them in what you teach. We are also happy with the peer influences exerted. I would recommend The Blend to anyone searching for an excellent education in an excellent environment. We look forward to another year.
—Mom of 13-year-old
daughter, classical homeschooler
Emphasis & approach
Our approach to writing emphasizes the following features, all closely related:
logical flow;
clarity and precision;
economy of expression;
impact.
To master these aspects of writing, the students will undertake a variety of class activities and homework, including:
reading and analyzing essays by great writers;
maintaining a notebook of observations & insights;
sketching out (or mindmapping) essay ideas;
drafting their own essays;
revising those essays;
workouts with tools for efficient editing;
reading and critiquing other students' essays.
Our approach to ...
Writing
Writing is one of the most difficult subjects to teach — partly because it is not a single complex skill, but rather a host of different skills, all intertwined. It is also a process — and like all complex processes, it is susceptible to ineffective and inefficient approaches.
To write effectively, students must have:
command of language — the ability to put thoughts into clear English, with rich vocabulary, sound usage, and correct punctuation;
knowledge, perceptions, and insights — in other words, they must have something to say;
convincing arguments — the ability to present a sound case, with clear points supported by solid evidence;
a sound process — an approach that not only includes all the critical steps, but presents them in the most efficient and effective sequence, e.g., getting your thoughts clear before you try to write sentences and paragraphs.
Writing at The Blend, accordingly, is predicated on the following principles:
To produce clear writing, students must first have clear thoughts.
To write in a particular form — like the essay — they must first understand and appreciate that form, i.e., they must explore models of that form.
Students must learn to appreciate the craft of writing, with real insight into what gives a sentence real impact, what makes a train of thought easy to follow, what makes an argument compelling.
They must be equipped with a rich arsenal of tools not only for writing, but for thinking, for working with thoughts and ideas.
For all these reasons, we teach writing in stages, with the first stage being Foundations of Writing in the Green Blend — a course in which our students become adept at working with language, including everything from punctuation to vocabulary and basic reasoning. In the Blue Blend they take Logical Communication, in which they explore working with ideas and logical flow.
Finally, in the Gold Blend's Essay Writing & Appreciation, our students read and come to appreciate great essays and begin to write essays themselves.