LIVE & ONLINE — HONORS WRITING
Essay Writing & Appreciation
Reading great essays & finding your own voice in writing
Instructor: Roy Speed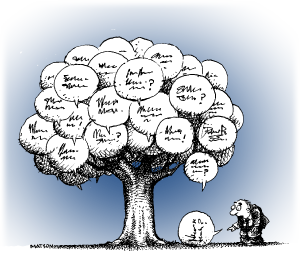 This course is the follow-up to Logical Communication — a course that emphasizes logical flow, organization of ideas, and a host of writing tools that address those challenges. The emphasis of this course, by contrast, is insight: those fleeting, intuitive leaps and connections we all make at some point — magic glimpses of understanding, and even wisdom.
In our daily lives, we seldom capture our insights, seldom record them or explore them. Yet they make for splendid essays. Students in this course, accordingly, are trained, first, to notice and record their own observations and insights; second, to explore them in the form of essays.
The problem with the academic approach
In schools, the essay is usually presented to students as a peculiar artifact of the classroom, unrelated to the outside world. Students come to know the essay as an unpleasant but necessary academic chore, one properly conducted in a rigid and tedious form, like the five-paragraph essay.
What parents are saying
I appreciate your enthusiasm for the subjects that you teach, your ability to draw out a unique written voice from your students, your method of showing well written insightful essays, and your approach of sharing class essays for critique.
What students are saying
In this class, I was surprised, though not unpleasantly, by how many essays from professional writers we read and critiqued. No other writing class I've taken has used such a method, but I found it very helpful and interesting. The thing I most enjoyed was seeing my essays improve over successive drafts. The feedback from fellow students was very useful and insightful.
[What parents should know about this course:] That this course is likely to dispel myths about writing that their child has learned from previous writing courses. For example, I learned that an essay's introduction need not be confined to one paragraph with the thesis statement attached to the end of that paragraph. I also learned that embellishment of writing—like alliteration and use of "colorful" verbs and adjectives—is secondary in importance to concisely and clearly getting your point across...
Consistent with this approach, students are usually asked to write essays before they've actually read any.
Everything about this approach does students a real disservice. The fact is, essays play a vital role in the real world: they are the principal forum for sharing insights or discoveries or for hashing out controversies. In virtually every field of human endeavor — science, economics, history, law, foreign policy, you name it — the leaders or pioneers in the field invariably turn to the essay as the medium of choice for discussing new developments out on the frontiers of discovery. So in every field, the most important discussions and debates take place in the form of essays.
In addition, traditional writing instruction leaves students ill-prepared for writing challenges they will soon face — e.g., college-admissions essays, scholarship-application essays — which bear little resemblance to the five-paragraph essay. Students in this course, by contrast, emerge not only with relevant training for writing such essays; they emerge with a toolkit for producing them with great efficiency.
Understanding the form
It's no accident that this course is called Essay Writing & Appreciation: our students read some of the finest essays ever written. In this course, moreover, the essays have been selected for their astonishing insights.
Understanding the essay form and what it can achieve is essential to the purpose of the course: equipping students to express their own thoughts and insights in writing. In this manner, the course prepares our students to participate in the real world of essays — discussions conducted by leaders in whatever fields our students may pursue.
Writing activities
Students in this course undertake a variety of class activities and homework. In addition to reading and analyzing essays by great writers, our students:
maintain a notebook of observations & insights;
routinely sketch out essay ideas (mindmapping);
draft their own essays;
revise those essays;
do workouts with tools for efficient writing & editing;
read and critique one another's essays.
The activities in this course are also designed to reinforce skills studied in Logical Communication — skills like:
crafting effective openings;
clear thinking;
producing logical flow;
clarity and precision of expression;
economy of expression;
enhancing impact.
Course fees
The fee for this two-semester course is $ 1340.
($670 per semester).
What's included
This course comprises:
thirty 90-minute sessions and thirty 1-hour sessions, for a total of 75 hours of live instruction, including activities and discussion;
instructor materials — a workbook that is shipped to your student prior to the first session;
instructor feedback on student essays.
View excerpts from actual classes
In the videos below, what you will see is most of what a student sees in an actual class on GoToTraining, our classroom platform. — What you don't see here: The GoToTraining control panel, which includes the roster of all the students in the class, displays the chat function, and so on.
From the Introduction: What this course is about
2023–24 registration now open!
---
FALL 2023 – SPRING 2024
All sessions live & interactive
Students attend two classes
per week, beginning August 29:
Tuesdays 3:30 – 5:00

pm

EST
Fridays 4:00 – 5:00

pm

EST
To register a student, click here:

To contact the instructor, click here.
Fee for entire year: $ 1340.
Up to July 15:
Register with a deposit.
Now through July 15, 2023, secure your student's seat with a 50% deposit ($ 670.);
the balance is due on September 1, 2023
(we'll invoice you).
After July 15:
Pay in full.
The entire fee is due at registration.
---
View our weekly schedule
for 2023–24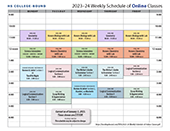 ---
Our approach to ...
Writing
Writing is one of the most difficult subjects to teach — and partly because it is not a single complex skill, but rather a host of skills, all different and intertwined. It is also a process — and like all complex processes, it is susceptible to inefficient, i.e., time-wasting, approaches.
To write effectively, students must have:
command of language — the ability to put thoughts into clear English, with rich vocabulary, correct usage, and correct punctuation;
knowledge, perceptions, and insights — in other words, they must have something to say;
convincing arguments — the ability to present a sound case, with clear points supported by solid evidence;
a sound process — an approach to writing that addresses all the critical stages and presents them in the most effective sequence, e.g., getting your thoughts clear before you try to write sentences and paragraphs.
Our writing instruction, accordingly, is predicated on the following principles:
To produce clear writing, students must first have clear thoughts.
To write in a particular form — like the essay — they must first understand and appreciate that form, i.e., they must explore models.
Students must be equipped with a rich arsenal of tools not only for writing, but for thinking — for working with thoughts and ideas.
Students must learn to appreciate the craft of writing, with insight into what gives a sentence real impact, what makes a train of thought easy to follow, what makes an argument compelling.
For all these reasons, we teach writing in stages, with the first stage being Logical Communication — a course in which our students become adept at working with ideas, identifying sound arguments, and perceiving logical flow. Also, our students read and come to appreciate great essays, and then they begin to write essays themselves.