Training for parents
---
Live & online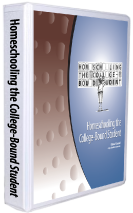 This program addresses the principal concerns parents have about homeschooling through high school — everything you need to know about the high school curriculum and credits, standardized tests, transcripts and record-keeping, applying to college, pursuing scholarships, and much, much more.
Terrific. Full of information. The materials were so thorough. I now have a plan of action. Also, this workshop is inclusive: No matter what type of homeschooler you are, you will understand better how to prepare your student for college and present him or her in the best light.
—A homeschooling mom
To ask a question about the program
or to register, contact Diane Speed:
Tel. 203.942.6155
Email: dspeed@salientcomm.com
Shakespeare Intensives
---
Ten online classes
These online sessions provide an in-depth study of this play as well as the historical, cultural, and literary background needed to bring the play to life. As one of our College-Bound Intensives, this course is designed to take students to an advanced level of reading comprehension and analysis, enabling them to:
tackle sophisticated material across the spectrum of the college curriculum;
dissect difficult passages included in standardized tests.
For my daughter, the most helpful part of taking this class was reading through parts of the play, line by line, with Roy's guidance every step of the way. Through this experience, she has begun to understand how to read Shakespeare and has been inspired by him to read many of Shakespeare's plays on her own.
Vicki B.
Online Writing
---
Two semesters of online classes
Two classes per week
Traditional approaches to writing are often wrongheaded — students, for instance, are routinely asked to write essays before they've actually read any. Students in this course, by contrast, read closely and analyze dozens of essays by outstanding writers — and then begin to write their own. In addition to enhancing students' appreciation of the essay form, the aim here is twofold: 1) Students learn to write clear, correct English prose. 2) They learn to control in their writing the logical flow of their ideas.
Note: This course serves as a precursor to our course Essay Writing & Appreciation.
Prerequisites: Students in this course should have a strong command of English fundamentals — i.e., grammar, usage, and punctuation.
Summer Shakespeare Intensive
---
Eight online classes

This new online series comprises eight sessions on one of Shakespeare's finest comedies. Twelfth Night satirizes unrequited love, mocks sanctimony and snobbery, and celebrates the simple pleasures of ordinary life. This course is primarily a course in close reading — students become acquainted with Shakespeare's vocabulary and verse, but equally important, they acquire the skills involved in deciphering a difficult text, e.g., annotation.
College prep for students
---
Live & online
Instructor: Roy Speed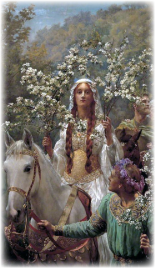 This is a year-long online course in close reading of medieval texts. The emphasis is England and English literature, but a great deal of what the students learn about this period will be applicable to other European societies and cultures.
The "Medieval Millennium" extended from roughly 500 to around 1500 ad, encompassing a huge swath of British history. English literature of the period spans everything from Anglo-Saxon poetry and the epic poem Beowulf to The Canterbury Tales and Malory's Morte Darthur. This course provides historical perspective, traces the development of the English language, and takes students on a deep dive into the most important literature of the period.
Prerequisites: For most students, Roy Speed's Shakespeare courses will prove adequate preparation.