Live Workshop for homeschooling parents
Homeschooling the College-Bound Student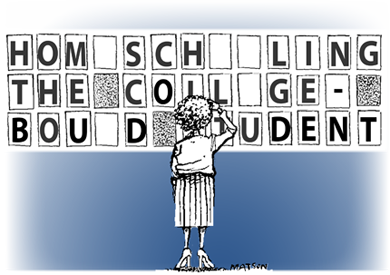 The thing I liked best about this workshop: The workbook! Having all the information presented by Diane also on paper where notes can be added is so valuable! That's the true treasure from this as it can be referred to repeatedly through high school years and when applying to colleges.
— Jacqueline B.
Homeschooling mom
The materials you put together for this course have been my lifeboat as I make may way through this ocean of possibilities and information. Thank you for assembling all that information into an easily accessible document. It has kept my anxiety about homeschooling thru high school from overwhelming me (most of the time :).
— Homeschooling mom
Whether your child is in elementary school, middle school, or already in high school, this workshop will reduce stress and anxiety over homeschooling high school and preparing for college. So much is covered in this workshop, you'll walk away confident, knowing you are doing your best for your student! What I found especially invaluable were details about transcripts and grading, record-keeping, and choosing a college.
— Mary P.
What I liked best: Key tips that I never knew—how to approach Admissions, professors at college, and the Common App info, the tips on Letters of Recommendation—all great!
— Homeschooling mom
This program addresses the principal concerns parents have about homeschooling through high school:
The high school curriculum

— all about credits, assigning grades, AP tests and scores, college courses, online courses, and courses just done at home.

Applying to college

— transcripts & record keeping, testing, the common app, admissions and homeschooling; also college visits, interviews, what to consider when choosing a school, merit aid vs. need-blind, early action vs early decision, and more.
What you'll get
You'll walk away with tools that will save you hundreds of hours of work and help present your student in the best possible light.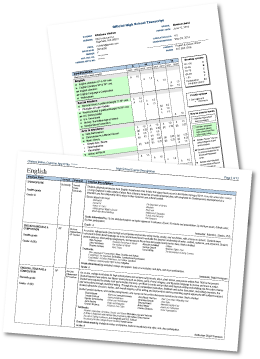 You'll get everything you need to —
create and manage your high school curriculum;
generate a high school transcript and supporting documentation;
plan for and complete college applications.
PLUS: Hands-on templates for all the most important documentation, useful websites, guidelines, and more.
Recordings. Each session is recorded, so that if your schedule conflicts with a particular session, you can simply view the recording. Each recording is made available to participants within hours of the session.
Payment of your fee ensures your space in the program.
Fee: $ 150. — includes printed materials and workbook.
To register, click HERE.
Instructor: Diane Speed.
(To learn about Diane, see About Us).
---
Participant comments from recent sessions
What I liked best: The workbook—very thorough, and great to keep as a reference and go-to guide. I learned so much—things I never would have imagined that I need to know to be ready for high school.
— Betty G.
This course gave me a place to start — It was fantastic. Very helpful. Everything is in one place.
— Homeschooling mom
I will sleep more soundly, knowing I have the information to guide my child as she goes through high school and then towards college—one of the most important decisions in her young life.
— Homeschooling mom
I appreciated the encouragement that you can make it through the process. Well organized, informative, and enthusiastically presented.
— Cheryl B.
new session scheduled!
Live & online
Fall 2019 session now open for enrollment.
This series will take place on
three consecutive Sundays:
Sun, September 15, 2019 4:00 PM – 5:30 PM EDT
Sun, September 22, 2019 4:00 PM – 5:30 PM EDT
Sun, September 29, 2019 4:00 PM – 5:30 PM EDT


---
Note: To ensure timely shipping of course materials,
please register no later than August 22, 2019.
---
Questions about the program?
Contact Diane Speed
Tel. 203.942.6155
Email: dspeed@salientcomm.com

More participants' comments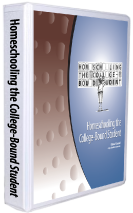 I was very impressed with the amount of material presented and covered in just three short sessions. I will certainly recommend this class to other homeschooling families!
— Allison P.
Homeschooling mom
This workshop was clearly presented and succinct, yet thorough. The workbook is a valuable reference, and the program itself is reassuring in how it simplifies the entire process from transcripts to college applications. Dispels the myths and fears we have. Highly recommended.
— Homeschooling mom
I do reviews and social media promotion for many homeschool products. I have looked at some of the resources available to homeschoolers preparing for college such as webinars, membership websites, and books. The knowledge you share and the materials you provide are by far the best I've come across! It feels complete. I don't feel like I have to go searching for more information!
— Amy L.
I've tried to educate myself about the process for a few years now, and this workshop really filled in some key blanks for me. I had many Eureka moments!! — Thanks so much again!!!!!
— Homeschooling mom
Terrific. Full of information. The materials were so thorough. I now have a plan of action. Also, this workshop is inclusive: No matter what type of homeschooler you are, you will understand better how to prepare your student for college and present him or her in the best light.
Joni C.
I particularly found the information about the common app and how best to organize student achievements to be relevant and useful. All the information was thoughtfully presented. I think this workshop would be valuable to anyone with a high-school-age student.
— Homeschooling mom