Diane Speed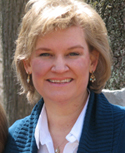 Diane Speed has been a home educator for almost twenty years. Using an academic, college-prep program of her own design, she has tutored two children from pre-school through high school. In 2013 her son completed high school and was awarded a full academic scholarship — tuition, room, and board — at Loyola Marymount University in Los Angeles, where he recently graduated with a degree in screenwriting. Diane's resourceful 17-year-old daughter, meanwhile, is still at home, playing classical guitar and ukelele; she also composes and sings her own songs and "messes around" on an upright piano she rescued from the streets, where it had been abandoned on someone's curb.
Diane is also the founder of the Classical Kids Network, the home-school support group she has led since its inception in 2001. Classical Kids now serves more than 200 families in CT and surrounding states. In 2007 Diane launched the group's website to enhance its services to member families. The website's library of resources is open to the public.
Prior to being a home-educator, Diane was a management consultant, designing team-building and sales-training programs, as well as software training programs. As a homeschooling mom, she has turned that expertise into two programs to benefit homeschooling parents:
Diane is also an accomplished science teacher. At The Blend she teaches two courses of her own design:
With another homeschooling mom, Monica Kiehnle, she designed a third science program, Physical Science & Ecology (2 semesters). In the fall of 2020, she began offering a new kind of program with her Science Intensives — 8-week programs on specific topics like Ecology, Anatomical Systems, Genetics, and Botany.
Finally, the program called "The Blend" was Diane's brainchild. Founded in 2014, The Blend was an innovative approach to rich, challenging high school content, and it was delivered to local families until the advent of COVID in the early spring of 2020.