Resources
---
College applications
Codes
At various stages in the application process, you will need certain codes:
CEEB codes. You will need these codes for submitting letters of recommendation (LORs) — i.e., teachers and professors writing LORs for your student will need the code for the institution where they teach (not where the child is applying) and often have difficult finding it. "CEEB," by the way, stands for College Entrance Examination Board, and each code is a unique identifier for academic institutions like high schools, colleges, etc. — The link provided here is to a CEEB-lookup engine provided by Rutgers.

Test codes.

To register for standardized tests, students must have the unique code that identifies their high school. Homeschooled students will need the appropriate code that represents homeschooling:

SAT or SAT II

— 970000

ACT

— 969-999

PSAT or AP in CT

— 990799

PSAT or AP in NY

— 993499
For PSAT Codes for homeschoolers in other states, use this link.
Searching for scholarships
Be sure to
check your target
schools' websites
for scholarship
information, as well
as requirements
and deadlines
for applying.
Here are some of the most popular search tools & sites for scholarships:
Important: Be sure to check your target schools' websites for scholarship information, as well as their requirements and deadlines for applying.
College planning
The College Board has created a site called "Big Future" with answers to a lot of basic questions — like choosing a college major and the steps involved in applying for financial aid.
Help with the Common App
You cannot reach anyone at the Common App by phone (they say the volume of calls would be "unsustainable"). Use this site when you have questions:
Common App | Applicant Help Center.
Another site you may find helpful:
College Essay Doctor — Ted Cleary. This site lists the actual personal essay prompts in the College App and offers suggestions for how to best answer them, i.e. frame them — the actual experiences or insights your student cites must be his or her own.
Calculating GPA
Here's a good site for figuring how to weight grades and calculate credits:
Back to College | GPA Calculator.
Preparing High School Transcripts
This document contains essential information on components of a high school transcript including how to assign grades, how to assign credits, and calculate GPA:
HSLDA | Preparing High School Transcripts.
HSLDA has also made available a series of sample transcripts to study when preparing your student's transcript — as well as a blank form that's easy to use:
HSLDA | Sample Transcripts.
---
Just add yourself to our contact list here.
College prep for students
---
Live & online
Fall 2017 – Spring 2018
Mondays & Thursdays
Instructor: Roy Speed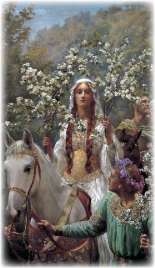 This is a year-long online course in close reading of medieval texts. The emphasis is England and English literature, but a great deal of what the students learn about this period will be applicable to other European societies and cultures.
The "Medieval Millennium" extended from roughly 500 to around 1500 ad, encompassing a huge swath of British history. English literature of the period spans everything from Anglo-Saxon poetry and the epic poem Beowulf to The Canterbury Tales and Malory's Morte Darthur. This course provides historical perspective, traces the development of the English language, and takes students on a deep dive into the most important literature of the period.
Prerequisites: For most students, Roy Speed's Shakespeare courses will prove adequate preparation.
Training for parents
---
Live & online
The 2017 series will take place on
three consecutive Sundays:
Sun, February 26, 2017 4:00 – 5:30 PM EDT
Sun, March 5, 2017 4:00 – 5:30 PM EDT
Sun, March 12, 2017 4:00 – 5:30 PM EDT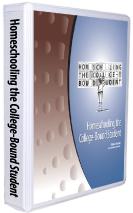 This program addresses the principal concerns parents have about homeschooling through high school — everything you need to know about the high school curriculum and credits, standardized tests, transcripts and record-keeping, applying to college, pursuing scholarships, and much, much more.
Terrific. Full of information. The materials were so thorough. I now have a plan of action. Also, this workshop is inclusive: No matter what type of homeschooler you are, you will understand better how to prepare your student for college and present him or her in the best light.
Joni C.
To ask a question about the program
or to register, contact Diane Speed:
Tel. 203.744.2321
Email: dspeed@salientcomm.com
College prep for students
---
Ten online classes
These online sessions provide an in-depth study of this play as well as the historical, cultural, and literary background needed to bring the play to life. As one of our College-Bound Intensives, this course is designed to take students to an advanced level of reading comprehension and analysis, enabling them to:
tackle sophisticated material across the spectrum of the college curriculum;
dissect difficult passages included in standardized tests.
For my daughter, the most helpful part of taking this class was reading through parts of the play, line by line, with Roy's guidance every step of the way. Through this experience, she has begun to understand how to read Shakespeare and has been inspired by him to read many of Shakespeare's plays on her own.
Vicki B.