ONLINE COURSES IN LANGUAGE & WRITING
The Writer's Guide to Grammar
Our innovative online course on the essentials of clear English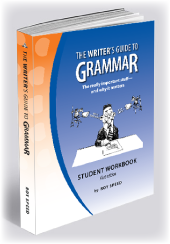 This two-semester course is taught by the author of The Writer's Guide to Grammar. It puts in place skills and knowledge foundational to the study of English and the mastery of clear writing. The weekly class is live and online, and students master all the most important principles of the English language — grammar, usage, punctuation, and more.
Roy Speed leads his students through a kind of boot-camp in the fundamentals of clear, correct English — intensive training that relies on his own extraordinary material (see the reviews and preview the content on Amazon).
Most important, Roy Speed teaches grammar principles not for their own sake, but as requisites for important writing tools — as keys to perceiving both:
how our language works;
what makes writing effective.
Required text
All students will need:
The course enables students to:
master the most important points of English grammar and usage;
perceive with little effort both the structure of a sentence and how proper punctuation can enhance that structure;
employ with dictionary-precision a rich arsenal of English words.
Now open for registration
---
FALL 2020 – SPRING 2021
Students attend one online
90-minute class each week,
beginning September 1:
Tuesdays 2:30 – 4:00

pm

EST
To register a student, click here:

To contact the instructor, click here.
Fee for entire year: $ 598.
Please note: At registration, you will pay
the fee for the fall semester ($ 299); for the
winter-spring semester we will invoice you,
with payment due by September 1, 2020.