Training for parents
---
Live & online
Returning in 2018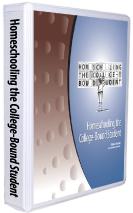 This program addresses the principal concerns parents have about homeschooling through high school — everything you need to know about the high school curriculum and credits, standardized tests, transcripts and record-keeping, applying to college, pursuing scholarships, and much, much more.
Terrific. Full of information. The materials were so thorough. I now have a plan of action. Also, this workshop is inclusive: No matter what type of homeschooler you are, you will understand better how to prepare your student for college and present him or her in the best light.
Joni C.
To ask a question about the program
or to register, contact Diane Speed:
Tel. 203.744.2321
Email: dspeed@salientcomm.com
College-Bound Intensives
---
Ten online classes
For students, Hamlet can seem daunting — it's Shakespeare's longest play, with dark themes, complex ideas, and difficult verse. This course reveals the play's deepest secrets in a series of online sessions. It's an in-depth study of the play some consider Shakespeare's greatest.
Prerequisites: Students should already have considerable familiarity with Shakespeare. Our own College-Bound Intensive on Romeo & Juliet is ideal preparation for this course.
---
Seven online sessions
This course in close reading comprises seven sessions on Shakespeare's shortest tragedy. Macbeth shows what happens when a man with a conscience commits murder; it is, accordingly, an astute portrait of psychological unraveling. Students in this course study in great detail not just the psychology of the play's characters, but the remarkable imagery and verse of Shakespeare's later years.
---
Ten online classes
Roy Speed has a wealth of information at his fingertips, as well as a vibrant teaching style that I believe capable of garnering the attention and intrigue of any student. As a freshman in college, I use the skills he taught me in high school every day. The texts I must read demand an aptitude for active reading and critical thinking. Roy taught me how to read difficult texts, analyze what I had read, and express myself clearly on paper.
Matt W., student
These online sessions provide an in-depth study of this play as well as the historical, cultural, and literary background needed to bring the play to life. This course is designed to take students to an advanced level of reading comprehension and analysis, enabling them to tackle sophisticated material across the spectrum of the college curriculum and dissect difficult passages included in standardized tests. Space is limited.