Movie Nights Online
---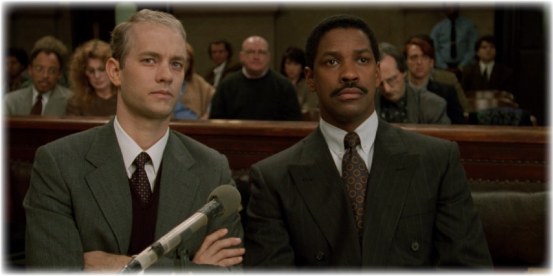 Tom Hanks & Denzel Washington in Jonathan Demme's Philadelphia (1993).
Winter 2022:
Great movies, great discussions
Our opening series for 2022 combines classics & hidden gems.
Between now and mid-March 2022 we're getting together online to view and discuss movies of unusual quality — films that most of our students have never seen and, left to their own devices, might never see.
All our films are currently available on Netflix and Amazon Prime, so having subscriptions to both services is a prerequisite for joining us for this series.
The good news about these services: Right now, we can view many extraordinary films. — The bad news: On both services the comings & goings of individual movies can be arbitrary and difficult to predict. Our lineup of films, accordingly, is subject to change, even in the middle of a series.

The host for this series is Roy Speed; you can learn about him here.
How movie nights work
This online series comprises five Saturday evenings — see our schedule above right — and the series is designed to bring together teens and movies they might otherwise never see. — Each evening includes:
Background on the movie.

Each evening begins with an introduction to the night's film. Depending on the film, that introduction may emphasize historical or geographical background on the period & place depicted; information on the filmmakers—including writers, directors, cinematographers, composers, etc.; plus any other information the host feels will deepen students' understanding of what they're about to see.

Lively discussion.

The two principal discussions of the evening take place at the mid-point and conclusion of each film. All discussion is conducted in a relaxed yet civilized atmosphere.
The films
Among the films we're currently considering for this series—and which are (at this writing) available on either Netflix or Amazon Prime:
Harold Russell, Dana Andrews, & Fredric March in William Wyler's The Best Years of Our Lives (1946)

The Best Years of Our Lives (1946)


This remarkable film is the work of William Wyler (Roman Holiday), who received more Oscar nominations than any other director in history: he was nominated 12 times, and one of his wins was for this movie. Best Years of Our Lives is the story of three soldiers returning home to a Midwestern town after serving in World War II. The cinematography is by the amazing Gregg Toland (The Grapes of Wrath, Wuthering Heights, Citizen Kane), and the wonderful screenplay is by Robert Sherwood (The Petrified Forest, Rebecca, The Bishop's Wife). This is one of the finest films ever made.

Tom Hanks in Jonathan Demme's Philadelphia (1993)

Philadelphia (1993)


This moving film was directed by Jonathan Demme (Melvin & Howard, Silence of the Lambs), and it was the first major Hollywood production to tackle the AIDS epidemic. For his performance here Tom Hanks won his first Oscar. The movie documents a period in U.S. history that many young people today are only dimly aware of — the period when AIDS was a mortal threat, and especially within the gay community. Hanks plays a talented young attorney named Andrew Beckett, who is secretly gay and fears that coming out would affect his employment at the prestigious Philadelphia law firm where he works. The firm's partners come to suspect that Beckett might have AIDS, and after they fire him, Beckett hires his own attorney (Denzel Washington) and sues for discrimination. In addition to Hanks, the brilliant cast includes Denzel Washington, Antonio Banderas, Jason Robards, Joanne Woodward, Mary Steenburgen, and many more. The music is by Howard Shore (Lord of the Rings) and incorporates Oscar-nominated songs by Neil Young and Bruce Springsteen. The cinematography is by Tak Fujimoto (Silence of the Lambs, Gladiator, The Sixth Sense, and more).

Ali Fazal as Abdul Karim, an Indian clerk who became the real-life companion of
England's Queen Victoria, a story told in Stephen Frears' Victoria & Abdul (2017).

Victoria & Abdul (2017)


In 1887 a young clerk from India is invited to play a ceremonial role in the Golden Jubilee of England's Queen Victoria. He and the queen — much to the consternation of her handlers — strike up a warm friendship. Stephen Frears' charming film recounts the true story of these two unlikely companions, whose friendship endured for fourteen years, until Victoria's death in 1901. As told by Frears, the story is charming and funny and frequently moving. Judi Dench stars as Queen Victoria.

The Holiday (2006)


This clever and charming romantic comedy was written and directed by Nancy Meyers (Irreconcilable Differences, Father of the Bride I & II, What Women Want, Something's Gotta Give). The cast includes Cameron Diaz (shown right), Kate Winslet, Jude Law, and Jack Black. Diaz & Winslet play professional women on opposite sides of the world — Diaz is in L.A., Winslet in a tiny village in the Cotswolds, England — and they are equally unhappy in love. Desperate to escape their circumstances, each creates a posting on a vacation rentals website specializing in "home exchange." In short order, Winslet arrives in L.A., and Diaz shows up in the English village. Writer-Director Nancy Meyers is a wizard with this kind of material, and her cast is delightful.

British paratroopers crash-land behind enemy lines in the Dutch film The Forgotten Battle (2020)

The Forgotten Battle (2020)


This extraordinary Dutch film was written by Paula van der Oest and directed by Matthijs van Heijningen Jr. It tells the story of a decisive battle in World War II that is little remembered outside of the Netherlands. The central characters here are Dutch civilians who have lived for years in Nazi-occupied Zeeland, but the story also turns on dozens of British and Nazi characters; as a result, the film was shot primarily in Dutch and English with some German. The period depicted is September 1944: the Allies have mounted a massive operation to liberate parts of Holland and, most important, gain access to the Beligan port of Antwerp, which is vital to Allied supply lines, as the D-Day forces penetrate deeper into Europe. A really eye-opening depiction of World War II — including seldom-seen aspects of life under Nazi occupation, the Dutch resistance, Dutch youths required to wear the Nazi uniform, the fleets of British gliders that crossed the channel to invade Europe, and much more.

Uncle Frank (2020)


This film was written and directed by Alan Ball, creator of the HBO series Six Feet Under and a prolific producer for television. The film's story centers on a road trip in 1973: Beth is an 18-year-old living in New York City, where her middle-aged Uncle Frank (Paul Bettany) is a professor. The pair must drive from NYC to their hometown of Creekville, South Carolina. The reason: They're attending the funeral of "Daddy Mac," the patriarch (Stephen Root) who dominated their family for decades. — To tell this story of the South, Alan Ball has assembled a wonderful crew of great character actors, including Margo Martindale, Lois Smith, Steve Zahn, Peter Macdissi, and more. The young actress playing 18-year-old Beth is Sophia Lillis (Sharp Objects, It), and she's terrific. But the guy who really carries this movie is the wonderful Paul Bettany; Alan Ball couldn't have asked for a more appealing Uncle Frank.
Among the other films we're considering:
Munich: The Edge of War (2022) — premiering on Netflix January 22.

We're keeping our eye on this one, even though it has not yet premiered. It's based on a novel by Robert Harris, who has churned out brilliant historical novels on everything from Ancient Rome to the Dreyfus Affair. This film tells the story of a young Englishman and a young German who were classmates at Oxford; now it's the autumn of 1938, and they are separately drawn into the negotiations between Hitler and Neville Chamberlain. — Sounds really intriguing.

The Farewell (2019)

— a comedy with the Chinese title Don't Tell Her. Directed by Lulu Wang, this film tells the story of a Chinese-American woman whose grandmother back in China has been diagnosed with terminal cancer. The family hides the diagnosis from the old lady, but at the same time, they all want to convene in China to say their farewells, so they need a pretext. What they come up with is a wedding: they will pretend that two of the young people are getting married...

Dodsworth (1936)

— a remarkable film by director William Wyler, who directed not only Roman Holiday, already on our list for this series, but also The Best Years of Our Lives, Wuthering Heights, Mrs. Miniver, and many other fine films. Dodsworth is based on the novel by Sinclair Lewis and stars Walter Huston and Mary Astor.

Hunt for the Wilderpeople (2016)

— a charming film by director Taika Waititi (Jojo Rabbit) about a rebellious orphan who goes missing in the New Zealand bushland.
The challenge of selecting films for Movie Nights
To select just six films for a movie nights series, we view many times that number of films. Among our criteria:
Our research on the movies is painstaking, and in some cases, we must look beyond our own elimination criteria.
One of the films we considered for an earlier series, for example, was the Spanish movie Lighthouse of the Orcas (2016): it bears an "MA" rating — mature audiences only, a rating usually reserved for only the most extreme content. On a hunch we watched the entire film and concluded that someone, somewhere, had simply goofed: the film contains no sex, no nudity; the only violence occurs when orcas attack a group of seals on a beach — the kind of scene you might find in a nature documentary on PBS. Even that violence is viewed from a great distance (no visible blood or gore) and is shown to underscore one of the movie's themes: that Nature's gonna be nature, whether we like it or not, and while our hearts may go out to animal "victims," our sympathy alters nothing in the natural world. So the film warrants at worst a PG-13 rating; there's no telling how many concerned families are frightened away by the MA rating.
How to sign up for Movie Nights
See above right: "How to enroll a student."
Film series: Winter 2022
---
Five Saturday evenings online
6:30 – 10

pm

EST
(ending time is approximate)
January 29
February 5, 19, 26
March 12
FEE:


One student: $ 54.
Two siblings: $ 68.
---
Signing up a student for this series is easy — just two steps:
1) Pay for 1 student here:
— OR for 2 siblings here:
2) Email the host, Roy Speed,
by clicking here, and send him
the name and email address
of each student you paid for.
Please note: Space is limited.
---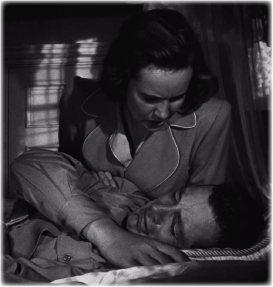 Teresa Wright & Dana Andrews in William Wyler's Best Years of Our Lives (1946).
Want to learn more
about our movie nights?
— Contact the host
by clicking here.
Shakespeare Intensives
---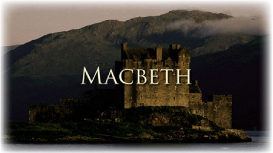 Seven online classes
It may be his shortest tragedy, but Macbeth is packed with some of Shakespeare's most compelling imagery and finest verse. This series of seven sessions is for students who already have some familiarity with Shakespeare and seek greater depth. The emphasis is on close reading, and students also become familiar with 1) Shakespeare's sources for the play, and 2) the most interesting movie versions.
Prerequisites: Students should already have some familiarity with Shakespeare. Our own College-Bound Intensive on Romeo & Juliet is ideal preparation for this course.