Movie Nights Online
---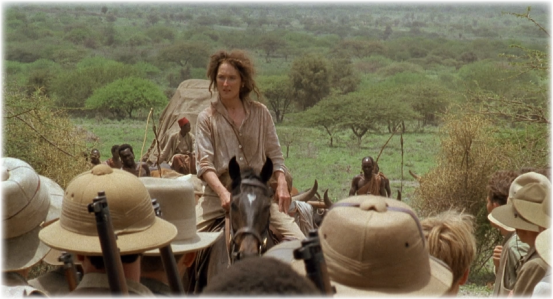 Sydney Pollack's Out of Africa (1985) stars Meryl Streep as Danish writer Karen Blixen
Good company. Great movies.
Two Hollywood classics; two foreign-language films; two female directors.
In this spring series, we're getting together online to view and discuss movies of unusual quality: films that most of our students have never seen — and, left to their own devices, might never see.
All our films are currently available on Netflix and Amazon Prime, so having subscriptions to both services is a prerequisite for joining us for this series. The good news: On these services, right now, we can view many, many extraordinary films. The bad news: The comings and goings of individual movies from these services can be arbitrary and difficult to predict; our lineup of films, accordingly, is subject to change, even in the middle of a series.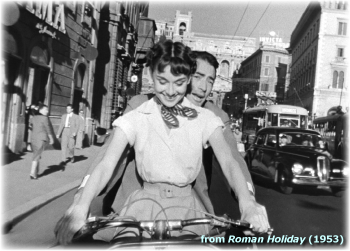 The host for this series is Roy Speed; you can learn about him here.
How movie nights work
This online series comprises six Saturday evenings — see our schedule above right — and the series is designed to bring together teens and movies of unusual quality. We try to choose films that most teens, on their own, might never encounter.
Each evening includes:
Background on the movie.

Each evening begins with an introduction to the night's film, with historical & geographical information on the period and place depicted; information on the filmmakers—writers, directors, cinematographers, etc.; plus any other information the host feels will deepen students' understanding of what they're seeing.

Lively discussion.

The two principal discussions of the evening take place at each film's mid-point and at its end. All discussion is conducted in a relaxed yet civilized atmosphere.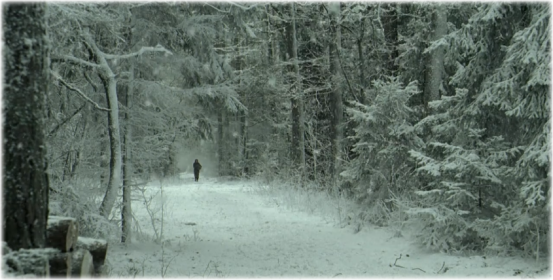 Literature professor Evgenia Ginzburg escapes from a Siberian labor camp in Within the Whirlwind
The films
Among the films we're considering for this series:
NEW ADDITION —

Sense and Sensibility (1995)


Ang Lee's brilliant adaptation of the Jane Austen novel features an amazing cast and an Oscar-winning screenplay by none other than Emma Thompson — one of the stars. The cast also features a very young Kate Winslet and a very reserved Alan Rickman, whom we last saw together in a film from our winter series: Rickman's A Little Chaos.

Out of Africa (1985)


Director Sydney Pollack's film version of the Isak Dinesen memoir — a lyrical description of life on a coffee plantation in colonial East Africa around the time of the First World War. The extraordinary cast includes Meryl Streep, Robert Redford, Klaus Maria Brandauer, and a host of Africans, many of them descended from the actual tribesmen and -women who lived and worked with Karen Blixen (Dinesen's real name). This film won oscars for Best Picture, Best Director, Best Adapted Screenplay, Best Cinematography, Best Score, and more.

The Farewell (2019)


Chinese-American director Lulu Wang wrote this story of a Chinese family gathering to say their farewells to a beloved grandmother who has terminal cancer. — Sounds sad, but the actual movie is funny and charming and deeply moving. It also gives a contemporary look at the clash of Chinese and American values.

Within the Whirlwind (2009)


This film was directed by Dutch filmmaker Marleen Gorris. (In 1995 Gorris became the first woman ever to win the Oscar for Best Foreign Film.) Here she tells the true story of a 31-year-old literature professor living in the time of Stalin's purges. Emily Watson plays Evgenia Ginzburg, who was arrested in 1937 by the secret police, the NKVD, and sentenced to ten years in a Siberian prison camp. This film is based on Ginzburg's memoir of the same title, and it's a tale of endurance and courage and, ultimately, love.

Real Steel (2011)


This is the story of a washed-up fight promoter (Hugh Jackman), his estranged son, and a washed-up robot. It's a gritty fantasy that takes place in the era of robot-boxing, and what's surprising about it is how charming, funny, and finally moving it proves to be. With Oscar-nominated visual effects, Real Steel was directed by Shawn Levy, who's best known for directing many early episodes of the Netflix series Stranger Things.

Roman Holiday (1953)


Director William Wyler's extraordinary film was shot, at Wyler's insistence, entirely in Rome — something unheard of in that day. This charming and funny movie is a sort of modern fairy tale, and it introduced to the world a young actress named Audrey Hepburn; for her work here Hepburn received the Oscar for Best Actress in a Leading Role. Also, this movie was made during height of the Red Scare, the McCarthy era, and its screenplay was written by blacklisted writer Dalton Trumbo, who used as a "front" the writer Ian McLellan Hunter. Everyone in Hollywood was stunned when the screenplay received the Oscar for Best Writing.

Pan's Labyrinth (2006)


This film was the brainchild of Spanish director Guillermo del Toro. It takes place in 1944: the Spanish Civil War is over, and the Fascists have won. The movie tells the story of the young step-daughter of a ruthless captain in the Spanish army: the girl has a vivid imagination and escapes into fairy tales whenever she gets the chance. In her imaginings she meets an old faun who tells her she's a princess but must prove her royal blood by undertaking three difficult tasks... — Del Toro's film was nominated for Best Foreign Language Film and also boasts an Oscar-nominated score and screenplay. Most surprising for a foreign film, it actually won the Oscars for Best Cinematography, Art Direction, and Makeup. A visual feast.
We're also considering the following films:
Also still in the running are the following films, currently available on either Netflix or Amazon Prime:
Dodsworth (1936)

— a remarkable film by director William Wyler, who directed not only Roman Holiday, already on our list for this series, but also The Best Years of Our Lives, Wuthering Heights, Mrs. Miniver, and many other fine films. Dodsworth is based on the novel by Sinclair Lewis and stars Walter Huston and Mary Astor.

Stranger Than Fiction (2006)

— a terrific film by director Marc Forster (Finding Neverland) about an IRS agent who hears inside his head the voice of an author narrating his life: the voice is unfailingly accurate — and then reveals that he is soon to die. Starring Will Ferrell, Emma Thompson, Maggie Gyllenhaal, and Dustin Hoffman.

Hunt for the Wilderpeople (2016)

— a charming film by director Taika Waititi (Jojo Rabbit) about a rebellious orphan who goes missing in the New Zealand bushland.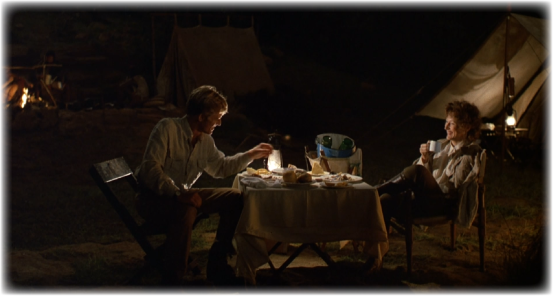 Robert Redford and Meryl Streep in Sydney Pollack's Out of Africa (1985)
The challenge of selecting films for Movie Nights
To select just six films for a movie nights series, we view many times that number of films. Among our criteria:
Our research on the movies is painstaking, and in some cases, we must look beyond our own elimination criteria.
One of the films we considered for an earlier series, for example, was the Spanish movie Lighthouse of the Orcas (2016): it bears an "MA" rating — mature audiences only, a rating usually reserved for only the most extreme content. On a hunch we watched the entire film and concluded that someone, somewhere, had simply goofed: the film contains no sex, no nudity; the only violence occurs when orcas attack a group of seals on a beach — the kind of scene you might find in a nature documentary on PBS. Even that violence is viewed from a great distance (no visible blood or gore) and is shown to underscore one of the movie's themes: that Nature's gonna be nature, whether we like it or not, and while our hearts may go out to animal "victims," our sympathy alters nothing in the natural world. So the film warrants at worst a PG-13 rating; there's no telling how many concerned families are frightened away by the MA rating.
How to sign up for Movie Nights
See above right: "How to enroll a student."
Film series: Spring 2021
---
Six Saturday evenings online
6:30 – 10

pm

EST
(ending time is approximate)
April 10, 17
May 1, 8, 22
June 5
FEE:


One student: $ 58.
Two siblings: $ 68.
---
Signing up a student for this series is easy — just do both of the following:
1) Pay for your student(s)
through our online store.
2) Email the host, Roy Speed,
by clicking here, and send him
the name and email address
of each student you paid for.
Please note that space is limited.
---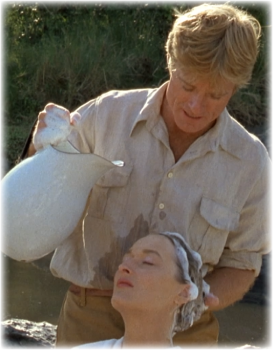 Robert Redford & Meryl Streep in Out of Africa
Want to learn more
about our movie nights?
— Contact the host
by clicking here.
Shakespeare Intensives
---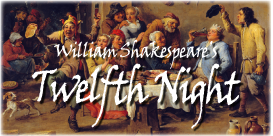 Eight online sessions on
Shakespeare's finest comedy
June 4 – 29, 2021
Shakespeare's Twelfth Night satirizes unrequited love, mocks sanctimony and snobbery, and celebrates the simple pleasures of ordinary life. This course serves as an introduction to Shakespeare's comedy, and it is also a course in close reading — students become acquainted with Shakespeare's vocabulary and verse and get practice in important skills, like annotating the text. Equally important, they discover how wickedly funny Shakespeare can be.