Shakespeare Intensives
---
Close reading of Shakespeare
Ten online sessions of 90 minutes
Ten online sessions of 90 minutes
Seven online sessions of 90 minutes
An introduction to Shakespeare's comedy
Eight online sessions of 90 minutes
ONLINE: English Language Arts
---
— Now open for registration —
Weekly online class
in the essentials of English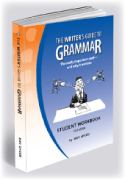 This two-semester course is taught by the author of The Writer's Guide to Grammar. It puts in place skills and knowledge foundational to the study of English and the mastery of clear writing. The weekly class is live and online, and students master all the most important principles of the English language — grammar, usage, punctuation, and more.
Online Writing
---
Two semesters of online classes
Two classes per week
Online Literature
---
Two semesters of online instruction
---
Training for parents
---
Now an online series!
This program addresses the principal concerns parents have about homeschooling through high school — curriculum and credits, standardized tests, transcripts and record-keeping, the application process, pursuing scholarships, and more.
Terrific. Full of information. The materials were so thorough. I now have a plan of action. Also, this workshop is inclusive: No matter what type of homeschooler you are, you will understand better how to prepare your student for college and present him or her in the best light.
Mother of two