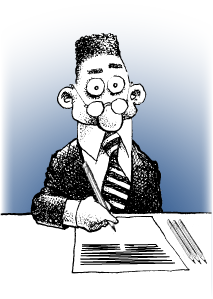 newsletter — February 18, 2014
Standardized tests, Part 1
If you're homeschooling a college-bound student, it's inevitable: at some point, you must devise a plan for your student to take a battery of standardized tests.
But we homeschoolers wrestle with questions like:
How many tests should my highschooler take? — and which ones?
When should he/she take them?
Your starting point
The need for standardized testing varies from student to student. The specific tests needed — and the timing of those tests — depend on your student's college plans.
The most direct approach to determining your student's testing needs is to start with the colleges, universities, or academic programs where your student is likely to apply. What you may discover:
Some schools or programs require many tests from all applicants.
Other schools are test-optional — that is, you may submit test scores, but your student will be considered for admission even without them.
Some schools have testing requirements particular to homeschoolers.
Such matters have important implications for your planning, but chief among them is this:
The sooner you can zero in on your student's target schools, the better.
Selective schools
If your student wishes to apply to the most selective schools, standardized tests are hoops he or she should be ready and willing to jump through.
Some of the most selective schools "suggest" applicants complete certain tests, and when you encounter such a "suggestion," you should probably just assume that submitting scores will enhance your student's chances, and not submitting will hurt them — especially for homeschoolers. The reason: With homeschoolers, selective schools are looking for objective validation of your student's performance in your homeschool; objective testing services and scores provide such validation.
Selective schools will typically want to see:
three or more SAT II subject tests;
the ACT or SAT reasoning test;
perhaps AP tests as well.
There are stories circulating of students who take the bare minimum of tests but are nevertheless accepted at selective schools. Know that these stories are the exception; your student may not be so fortunate. To be fully considered and vetted, students (and their parents) should be willing to meet the specific criteria expressed by the institutions.
One thing we have seen: When a student possesses a specific skill or qualification the institution desires, admissions may waive additional tests. Athletes and musicians, for instance, often undergo additional tryouts and auditions which may cause the school's athletic coach or department chair to lobby for the student's admission, regardless of how many test scores the student presents. Such a student has an inside track for admission — perhaps even for a scholarship.
A planning challenge
Completing multiple tests takes planning — not only for the actual testing, but also for sufficient time for the student to prepare for each type of test. Each type has its own format, length, and intricacies, and a student should invest the time sufficient to gain test-taking proficiency and confidence. The amount of time can vary from a few prep sessions to a few months' worth of such sessions; it all depends on your student's ability to decipher the testing format and perform well within the constraints of the test's administration.
So here's a skeletal plan for getting your student ready for standardized tests:
Identify your student's target schools.
Identify which tests are required by those schools.
Find out where and when those tests will be offered in your area.
Choose test dates that make sense for your student's schedule.
Devise a plan for your student's test prep.
Next week: Standardized tests, Part 2.
Not on our mailing list? — Adding yourself is easy; just go here.
---