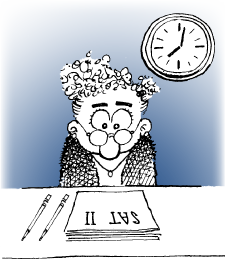 newsletter — February 25, 2014
Standardized tests, Part 2
If you're homeschooling a college-bound student, it's inevitable: at some point, you must devise a plan for your student to take a battery of standardized tests. In this, the second of a two-part series, we address planning which tests your homeschooler should take and when. View Part 1 here. — Diane Speed
Subject tests
SAT II subject tests may be completed when the student completes any high-school level work. In order to maximize your student's chances of excelling on the test:
Current debate: The merits of standardized testing
Educators are questioning the merits of standardized tests as a measure of a student's college-preparedness. Many are challenging testing at its foundation — see, for instance, this article — asking questions like: What exactly do standardized tests measure? Others cite an opportunity gap between rich and poor, arguing that test-prep can be purchased by wealthy parents to give their children an advantage.
This ongoing debate has so dulled the cachet of standardized tests that — as described in the article cited above — some schools are making tests optional for admission. The National Center for Fair and Open Testing publishes a list of schools that are test-optional. You'll find that some of the most selective schools are now test-optional, including Mount Holyoke, Smith, and Bowdoin, as discussed in a blog at the Washington Post.
At the same time, other educators are making the opposite argument, defending the merits of standardized testing—in particular, how tests are a valid measure of reasoning skills. Consider the essay published just last week in The Wall Street Journal and written by educator James Samuelson, in which he argues:
Students acquire test-taking skills through discipline, through routine. They also learn how to reason by following a progression of ideas in connected, logical order. But the need for discipline, for routine, would require teachers to cut down on the practice of flitting about from one unconnected topic to another.
Validating "mommy grades": Looking beyond test scores
There's no doubt that standardized tests are a legitimate method of validating homeschool "mommy grades," but they are not the only way.
Classes taken outside your homeschool — and especially college-level work at local universities or community colleges — can go a long way to validate your student's capabilities.
Classes at a local college or university offer three added bonuses:
They prove that your student is ready for college work.
They dispel any lingering doubt about your homeschooled student's ability to perform in a classroom setting — a concern some admissions officers still harbor.
They provide insight into your student's interests and passions – for example, a student who takes a high-level math or science class versus one who takes a class on Medieval Europe.
To illustrate these benefits, consider our own student, who as a high school junior and senior took five college courses at a local university: our son's professors were so impressed by his abilities and his maturity that two of them wrote college recommendations for him.
Parting shots
While some colleges are becoming test-optional, others are relaxing additional testing requirements for homeschoolers — a development I consider testament to how exceptionally well homeschooled students have performed in colleges over the past decade. And consider the view of this parent:
If a college wants to add on extra requirements because my student is homeschooled, it's probably not the right college for her.
Food for thought.
* * *
Not on our mailing list? — Adding yourself is easy; just go here.
---
View all our online courses here.
Eight weeks, in depth, live & online
Twice weekly sessions for two semesters
Twice weekly sessions for two semesters
Shakespeare Intensives
---
Close reading of Shakespeare
Ten online sessions of 90 minutes
Ten online sessions of 90 minutes
Seven online sessions of 90 minutes
An introduction to Shakespeare's comedy
Eight online sessions of 90 minutes
ONLINE: English Language Arts
---
— Now open for registration —
Weekly online class
in the essentials of English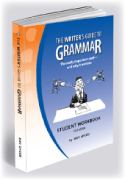 This two-semester course is taught by the author of The Writer's Guide to Grammar. It puts in place skills and knowledge foundational to the study of English and the mastery of clear writing. The weekly class is live and online, and students master all the most important principles of the English language — grammar, usage, punctuation, and more.
Online Writing
---
Two semesters of online classes
Two classes per week
Online Literature
---
Two semesters of online instruction
---
Training for parents
---
Now an online series!
This program addresses the principal concerns parents have about homeschooling through high school — curriculum and credits, standardized tests, transcripts and record-keeping, the application process, pursuing scholarships, and more.
Terrific. Full of information. The materials were so thorough. I now have a plan of action. Also, this workshop is inclusive: No matter what type of homeschooler you are, you will understand better how to prepare your student for college and present him or her in the best light.
Mother of two