newsletter — June 9, 2014
The college admissions racket
Getting things into perspective
by Diane Speed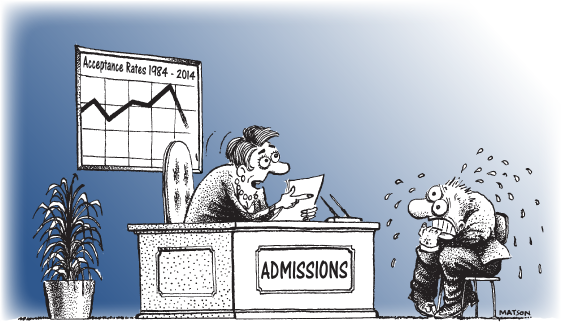 If you are a homeschooling parent worried about your student's chances of making it into a "good school," your concerns may be valid — and not because your student is homeschooled.
A recent New York Times article concluded that "the most selective colleges are, inevitably, rejecting a vast majority, including legions of students they once would have accepted. Admissions directors at these institutions say that most of the students they turn down are such strong candidates that many are indistinguishable from those who get in." (Emphasis ours.)
What makes the problem more alarming is the fact that we consumers of higher education are in part responsible for the rat race that is the college admissions process. Admission rates have dropped considerably in the past 20 years — even as the number of students matriculating has declined. Schools that a generation ago accepted 20% or more of applicants now have acceptance ratings in the single digits. This year, for instance, Harvard and Yale each accepted about 6 percent of applicants.
How did we get here?
Intensifying the competition
A number of discrete factors have played a role in intensifying the competition for the most selelctive schools.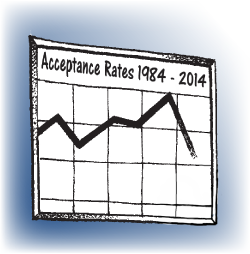 First, the average student today applies to more colleges. On average, students today apply to nine schools, including several prestigious or "reach" schools. That's partly due to the shift to online applications: applying electronically has made the process easier than ever. Many students feel that with a few keystrokes and for a few dollars, their application can be considered by more schools, so, why not? — But since the number of slots in the class of 2018 is more or less fixed, more applications results in more rejections.
Second, the number of college-age students has climbed. Between 1994 and 2012, the college-age population in the U.S. rose from 14.1 million to 17.9 million — making the college-application process more competitive.
Third, there are fewer spaces available for U.S. students: over the last 20 years, applications from foreign students have steadily increased. American colleges have globalized to an unprecedented degree, and while that trend may be beneficial in many ways — exposing U.S. students to an ever-more diverse student body — it has certainly contributed to the intensity of the competition.
Application costs
Applying to college, moreover, has real costs. At top schools, the average application fee is around $75, and Ivies charge even more.
Families must also cough up dollars for:
A family often has to budget more than $1000 in application-related fees. And each time the student applies to an institution that is not a good fit from the start, the family is wasting good money.
Students may be rejected because of academics, such as test scores or academic rigor, but a student may have excellent test scores and grades and still be rejected. Other considerations schools may weigh:
On this last point: Generally speaking, the more prestigious a university becomes, the less regional it becomes.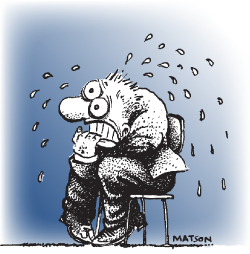 To illustrate, our family lives in Connecticut, where Yale is located. But Yale wants a diverse student body and therefore likely maintains target quotas for the different regions of the country — effectively limiting the number of Connecticut students it will accept. Our suspicions on this point seem to be confirmed by New York Times editor David Leonhardt:
For students from the Northeast applying to elite colleges in the region, college admissions have probably become even more difficult in recent decades than [average admission rates would] suggest.
It's hard to escape one further suspicion — that colleges gladly pocket admissions fees while eliminating applicants who get a less-than-full vetting.
Investing your time — both yours and your student's
Not only is there a financial cost to each application; each takes time — and often a lot of time:
Supplements.

All selective schools have additional supplemental applications requiring the student to write additional essays and answer additional questions.

Merit aid.

To be considered for merit aid, a student needs to complete additional applications. And if your student wants his or her talent or special skill to be considered — such as a sport or performance talent — such consideration will likely entail an additional questionnaire, in-person visits or interviews, and try-outs or auditions.
Compounding the stress is the timing — the fact that these investments come in senior year, when students are often taking the most challenging classes of their academic careers while also completing the battery of standardized tests required by the most prestigious colleges.
Lost in the mix: The question of fit
All too often, what gets lost in the effort to be accepted to "good schools" is the most important consideration of all: fit — whether the targeted school is a good fit with your student. Any time I counsel parents on the college search process, I always recommend a few important principles:
The name of the school is less important than the program of study your student seeks.

If your student wishes to study robotics engineering or geology, there are a limited number of schools to consider — and the same goes for dozens of other pursuits in music, theater, film, history, and so on.

Find the intellectual, social, and physical match with your student.

Your goal is to help your student find his or her "tribe." College visits will contribute greatly to determining fit. Spending time on campus while interacting with students and professors will help your student determine whether any given school is a place they can call home.
Weigh the cost versus the value. Bear in mind that the cost is not just the package of tuition-&-expenses; it may also include the cost of borrowing.
Students today are emerging from college with unprecedented levels of debt. Many find that they must delay starting a family or buying a house. (In fact, many find that their level of student debt disqualifies them when applying for a mortgage.) What's more, recent graduates find themselves in a lousy job market with falling wages — and students who have borrowed heavily need a job right away, because loan payments begin right away. Defaulting, meanwhile, has grave consequences.
Now available as an online series:
Diane Speed's workshop Homeschooling the College-Bound Student
— everything you need to understand about your options
for your student's high school curriculum and college applications.
For more information or to register, see here.
An organization has arisen that aims to help families make more informed choices. That organization is called Colleges That Change Lives, Inc. — named for a book of the same title. Its mission:
To educate families that the criteria used by most college-bound students and their counselors, such as name and prestige, do not acknowledge the importance of understanding an individual student's needs and how they "fit" with the mission and identity of an individual college community.
I encourage all parents to review CTCL's list of common misperceptions about college choice. Also, CTCL information sessions are currently being held around the country.
From supplicant to customer
Finally, when choosing a college, most families ask:
Will this school accept our student?
What they should be asking:
Does this school meet our criteria?
Remember: You are the customer. Now granted, the school will determine whether your student meets their criteria. But the point is that your aim must be to find the best match for your student, and your criteria should include finances:
After our student attends X University,
she must emerge with less than Y amount of debt.
What you'll find is that the most elite schools are generous with loans and "need-based grants" — that is, grants for families with modest means. Equally important with "need-based" aid, your family's income must remain modest to continue getting it: for each year your student is in college, you must re-qualify, which means carefully documenting your modest means all over again.
Of course, there's always merit aid — scholarships or grants your student earns by demonstrating unusual accomplishments, talents, or abilities. Merit aid usually requires only that the student maintain a high grade average.
Unfortunately, the most prestigious schools offer little or no merit aid, and many families find themselves in a squeeze: they earn too much to be considered for substantial need-based aid but not enough to make paying for college a breeze.
Now for the good news: Lesser-known or less prestigious schools often welcome high-achieving students and offer substantial merit aid packages. Meritorious students who choose to study at such colleges often emerge from their studies debt-free.
Equally good news for such meritorious students: For all four years, they have enjoyed the benefit of being among the intellectual elite at their schools — and as a result, have enjoyed the best leadership opportunities, access to unique study programs and honors-level classes, and personal relationships with professors, department chairs, and key administrators.
I argue that such an education is among the "best" that higher institutions offer.
If you are successful in your college research, your student will find:
the school that offers excellence in the program of study he or she seeks;
fellowship in a community of intellectual, moral, and creative peers;
the right value-to-cost ratio — a school that doesn't saddle your student with unbearable debt.
If your student gets these things, you will have found the "best" school — even if it's one your friends have never heard of.
* * *
Not on our mailing list? — Adding yourself is easy; just go here.
---