newsletter — July 2, 2014
Teens need to be together
— and we parents can create constructive hang-out opportunities
by Roy Speed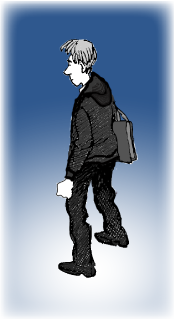 One of the things that distinguishes the high school years is our teens' need to be together, hang out together.
When our kids are younger, we organize play dates. But as they grow older, something shifts: rather than play, our teens simply want to talk — just be together. So one of the most important challenges of the high school years is providing constructive hang-out opportunities for our teens.
In the part of Connecticut where we live, we're fortunate to have many moms who regularly create such activities — like frequent beach-nights down on Long Island Sound, or a trip to see an outdoor Shakespeare performance.
Just the other day our 14-year-old daughter went tubing down the Farmington River with a bunch of teens — thanks to a group of moms who organize such things. And Diane, my wife, noted that after the tubing was done, the teens just sat on blankets on the ground and talked, and laughed, and talked.
She had the impression that for the kids, the blanket time was probably as fun as their time on the river.
This summer Diane and I decided to experiment with an activity that would enable our teens to get together not once, but many times over the summer — but also use their brains, perhaps explore together something really important. This experiment has now proven so successful, been so well received by the teens, that we're thinking of creating an online version — something we could offer this fall to students throughout North America.
Film series: Movie nights + History
We launched a history-through-film class we called Reflections on the American Century: Hollywood, 1920-1960. Our basic idea was to combine several components:
How it works
Each Tuesday evening at 5:30, twelve teens convene at our home. The basic plan for the evening:
dinner/hang-out time;
brief history lecture;
introduction to that night's movie;
first half of the movie
—— mid-movie break (hang-out time) ——
second half of the movie;
post-movie discussion;
hanging out until pick-up time (10 p.m.).
Another important feature of this class: Each student creates and maintains a film blog. Sometimes the students blog on assigned questions about our film; at other times, they write about whatever they're interested in discussing. Equally important, they must comment on one another's blogs.
A closer look
I'm going to describe one such evening just a few weeks ago.
History. The previous week I had given a talk on the rise of totalitarianism in Europe during the 1920s and -30s: I had covered Mussolini in Italy, Stalin in Soviet Russia, Hitler in Germany, and also the meaning of the word totalitarianism — the total, all-encompassing state — citing Mussolini's famous slogan:
Everything within the state, nothing outside the state, nothing against the state.
So on this particular night, I followed up by going into more detail on Hitler's rise to power. I first covered a series of political and economic events following World War I that left Germany ripe for the Nazis and a leader of Hitler's ilk. I then walked the kids through Hitler's actions after he became German Chancellor in 1933, leading up to his invasions of Poland and other countries, which led to World War II.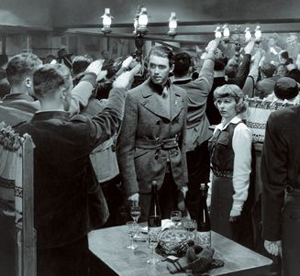 The movie. We then showed a little-known James Stewart movie from 1940 called The Mortal Storm. It takes place in the early 1930s in an unnamed part of the German Alps, and it concerns a group of university students who are all fast friends and students of a beloved professor of science and philosophy. When Hitler becomes Chancellor, Nazi fervor sweeps through the student body: students turn on their professor, whose teachings violate Nazi doctrine — and whose racial heritage is now questioned — and then begin to turn on one another.
The photo above right is from a scene in which everyone in a tavern sings a rousing Nazi anthem with arms upraised in the Nazi salute. Only Jimmy Stewart's character and the professor's daughter refuse to join in.
Bottom line about this movie: It shows what it looks like at a personal level for a society to embrace totalitarianism — not just the suspicion and spying, the book-burnings and restrictions on speech, but the betrayals and broken friendships, the devastated families and, finally, the deaths.
The reaction. By the end of The Mortal Storm, our students were stunned: This kind of thing actually happened? they asked. — All this, and far worse, we assured them. We then let them know that Hitler not only banned this movie throughout the Axis-occupied countries; he banned any film produced by MGM, the makers of The Mortal Storm, for the duration of the war.
Where we go from here
Do the students like it? — You bet they do. The kids look forward to their Tuesday nights and have so far embraced each new film as better than the last. Parents, moreover, have expressed warm appreciation for both the camaraderie this gathering offers and the stimulation afforded by the high-level content.
Finally, would you like to offer Reflections on the American Century to homeschoolers in your area this fall? — We're thinking of offering this class online to groups of homeschoolers around the country, and we're trying to gauge the interest. So if this sounds intriguing to you, please write to me and Diane at info@hscollegebound.com.
* * *
How about you? — Any thoughts on the challenge of teens' social needs? — And please tell us what you do to create constructive hang-out time for teens in your area.
Just post your comments below.
Not on our mailing list? — Adding yourself is easy; just go here.
---